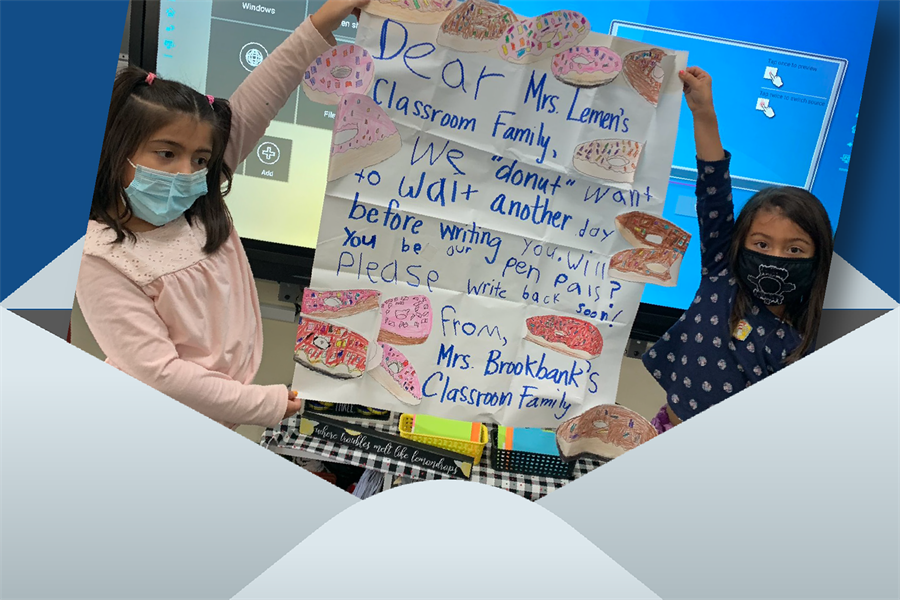 In the fall, Bridgett Brookbank, second grade teacher at Loch Lomond Elementary School, and Betty Lemen, second grade teacher at Occoquan Elementary School, started the pen pal project, an interactive writing assignment that has students penning letters to one another.
Students write individual notes and work together on larger class letters, detailing their school experiences, research from assignments, and more. This project offers them a unique way to strengthen their writing skills as well as build vocabulary.
"This project lends itself to authentic writing," said Lemen. "Writing doesn't become a series of lessons, rather students see a purpose and the fun of receiving mail-a new experience for many."
The project is continuing to evolve, now allowing them to practice verbal skills. Recently, the two classes met via Zoom, and students rehearsed more formal conversations using their newfound vocabulary. With a chance to speak more on topics not included in their letters, students are making connections and finding shared experiences with their pen pals.
"We felt that students need to connect with each other," said Lemen. "This project supports their social-emotional growth and helps them build relationships with students outside of their school."
Moving forward, Brookbank and Lemen are excited to continue the project and adapt the topics to make them relevant for their students.
"I so appreciate [Mrs. Lemen] thinking to connect us on Zoom. It was a wonderful experience," said Brookbank. "As we move forward, there's always potential to think beyond pencil and paper and incorporate what we learned about the use of technology these past two years."