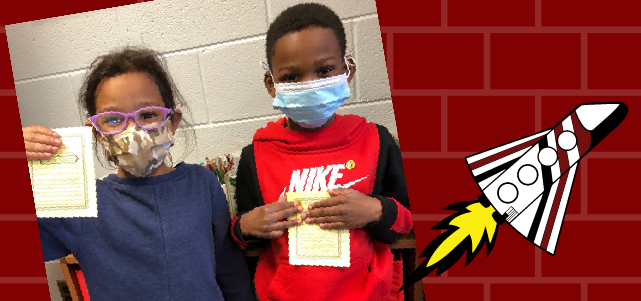 Several students at Ellis Elementary School are the proud recipients of special "golden tickets," a form of recognition awarded to students who excel in an academic setting on a school assignment or demonstrate an improvement in classroom behavior. The Golden Ticket program is an initiative spearheaded by Leigh Allen-Hughes, assistant principal at Ellis Elementary. It is a motivational tool for teachers to identify students who are working hard toward, and achieving, their academic goals.
Virginia Tilitsky, a special education teacher at Ellis, recently awarded a golden ticket to a student who used hand gestures to represent a "ray" on a geometry quick check. Tilitsky shared, "This student read the question and with each answer choice, he would stick out his arms and hands and prove why each choice was correct or incorrect."
The golden ticket system works as a positive reinforcement not only do well once, but to continue to strive for academic or behavioral excellence.
"Golden tickets are a great way to provide positive immediate feedback to students. Students remember that special feeling of when they earned the ticket, which makes them want to be the best version of themselves. When a student walks into the front office with their golden ticket, the world stops. Our office staff cheer along with the students, and students are eager to tell any adult/student walking by what they did to earn the golden ticket. It has been a great way to open communication and build relationships with every family. I personally feel like our golden tickets have broken the stigma that school administration only call home to report negative behavior," explained Tilitsky.
Several other teachers have been distributing golden tickets to their students for their good behavior and academic achievements. It is not your standard run-of-the-mill congratulations; it is a big celebratory, inclusive program that is on its way to becoming an inspirational tool for teachers and other school staff. This program is open to all students in grades Pre-K-5 at Ellis.
Allen-Hughes shared how the program has reinforced a positive culture at the school. "Ellis staff are working hard to create a strong support system or network around the students, and give them a safe space to grow, challenge themselves to achieve/succeed, and believe in themselves. Once the golden ticket culture catches on, it will take on a life of its own."