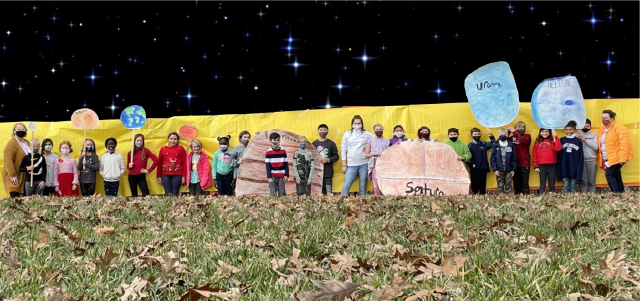 At Piney Branch Elementary School, students in Elizabeth McKeown's fourth-grade class were excited to "toilet paper or TP" the school lawn all in the name of science. Students conducted a performance-based lesson on the solar system, which is part of the fourth-grade science curriculum. Students demonstrated the distance between planets and the sun using toilet paper squares as the unit of measurement, and the school's fence as a metaphor for the sun. Students placed squares of toilet paper from the fence to the scale models they built for Mercury, Venus, Earth, Mars, Jupiter, Saturn, Uranus, and Neptune. Students were divided into groups and used calculations they derived in their classroom to see how many squares to use. The students assigned to Mercury used about four squares from the fence, while the students assigned to Neptune unrolled almost a full roll of toilet paper to represent its vast distance from the sun.
Fourth-grade student Jackson Anders shared, "I thought it was really fun. It helped me learn how to tell the distance between the planets and the sun. It was also a fun way to learn." Another student, Juliet Curcio, added, "I thought this project was fun. Because, well come on, it's SPACE! It involved a lot of toilet paper though."
Performance-based learning allows students to guide their learning journey by participating in intentional and engaging activities directed to further their understanding of a subject. This outdoor assignment was a culmination of language arts, mathematics, and science lessons the students had learned inside the classroom. Students also wrote a report on their planet following the writing process: research, writing a rough draft, revision and peer review, and final draft. To reinforce their understanding, each student group presented facts about their planet to the rest of the class.
This lesson was co-taught with Kristine Klink, special education teacher, and Adrienne Nguyen, English language learner (ELL) teacher, so students with different learning needs could learn and grow from each other in a supportive environment.
Nguyen shared that this co-taught lesson follows the school's mission to, "surpass the status quo with innovation that engages students."
"This planned activity is a creative approach to learning about the solar system. It allows the students to demonstrate what they are learning other than standard pencil and paper," McKeown said.