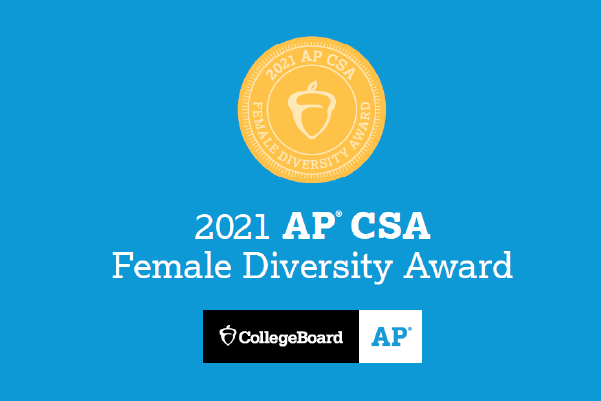 The College Board awarded Potomac High School the AP® Computer Science A Female Diversity Award. This award is for schools that have not only expanded girls' access in Advanced Placement (AP®) Computer Science courses but also achieved high female representation in AP Computer Science A (AP CSA). In total, 1,020 schools were recognized for their work toward equal gender representation during the 2020-21 school year, and Potomac High is one of 199 schools to receive the AP CSA recognition.
AP CSA students learn to design and implement computer programs that solve problems relevant to today's society. At Potomac, students can take AP CSA in addition to AP Computer Science Principles or classes in the Cybersecurity specialty program.
Hilary Mahalchick, administrative coordinator of the Cambridge Programme and gifted resource teacher at Potomac, emphasized the value of these courses, sharing that they allow students, whether there is an initial interest in technology or not, to explore the field for free.
"If they are exposed to opportunities early, this will make it more likely for students to take [science, technology, engineering, and math] courses later in life, especially for our female students and other students who are typically underrepresented in the field of technology," explained Mahalchick.
Looking ahead, Potomac hopes to see continued growth in its female participation in computer science programs as more learn about available courses in the School Division and technology opportunities beyond school.
"We are seeing more female elementary school students learning about coding, STEM related careers, and technology courses so this is creating more growth in the high school programs as these students move up to us," added Mahalchick.