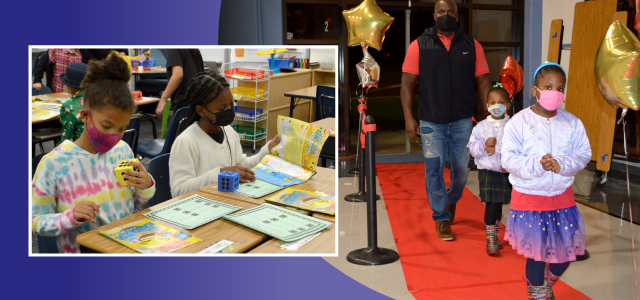 The stars were all out at Old Bridge Elementary School for a family engagement event, "Rolling Out the Red Carpet for Literacy." Students and their families came together to learn about literacy tools, including Lexia Learning, a personalized learning tool on critical reading and language skills.
The event was designed to be both informational and fun. Parents began their evening with a Lexia information session while students claimed their stars, symbols that they met their Lexia learning goal, to place on the Old Bridge Walk of Fame, a bulletin board designed to display the students' achievements. Participants were then invited to play literacy games that were also available to take home at the end of the night.
It was an overall success, thanks to the collaborative efforts of the school's Community Engagement Committee, led by Assistant Principal Lisa Jackson as well as teachers and the Parent Teacher Organization. Parents left with tools and strategies to help them stay engaged in students' learning, a goal that school staff sees expressed throughout their community.
"Parents are eager to take part in the learning process," said Jackson. "During the pandemic, parents have worked with us to assist with learning. We want to continue in our partnership with them by providing tools to help with reading."