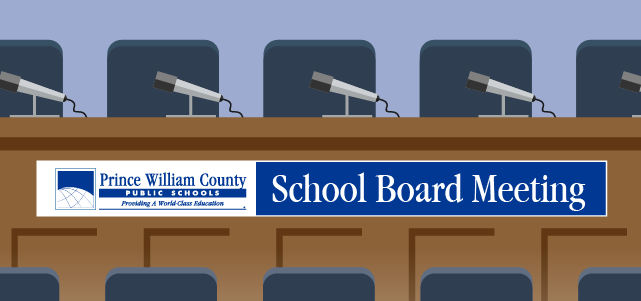 Due to the weather-related safety issues that the January 3 winter storm caused, the School Board will move the January 5 School Board meeting to Wednesday, January 12. The safety of our community members and staff are a priority for the School Board and with the forecast for below freezing temperatures, and power outages, access for the public to the meeting is a concern. As such, the School Board agreed through a poll to move the meeting to January 12 and combine it with the work session previously scheduled for that evening.
The meeting will begin at 5:00 p.m. with a work session on the Capital Improvements Program budget, followed by a closed session at 6:00 p.m. The public meeting is scheduled to begin at 7 p.m.
The meeting will be held in its normal location at the Kelly Leadership Center, 14715 Bristow Road in Manassas.
Those citizens who have signed up to speak for the January 5 Public Hearing on the Strategic Plan, or those who have requested to be placed on the list of speakers for the regular portion of the January 5 meeting by submitting the Citizen Comment Time Request Form or contacting the Clerk at 703-791-8709 prior to noon on January 5, 2021, will be on the list to speak at the January 12 meeting.
As a reminder, the citizen comment period for regular School Board meetings is limited to one hour, with the first half hour reserved for comments on agenda items only, and the second half hour for comments on agenda items or other topics germane to the operations and policies of PWCS. Speakers are limited to three minutes each, with an additional time allowance provided for speakers requiring translation assistance, as determined at the discretion of the Chairman At-Large.
View the agenda.