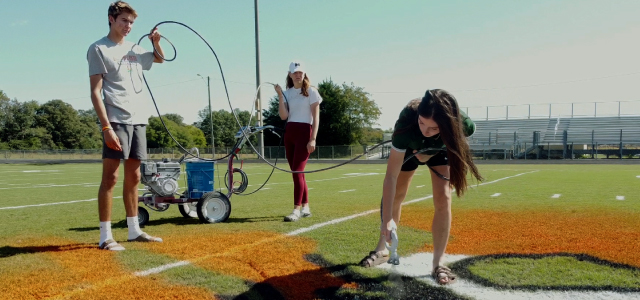 The Brentsville District High School Turf Program has earned the Sports Turf Managers Association award for Field of the Year for their work in maintaining their school's Donald Lambert Field. This award is the industry's highest honor and is awarded to recognize leaders who manage sporting playing surfaces at the professional, collegiate, schools, and recreation levels.
"The National Field of the Year award proves how our classroom is developing some of the best young Sports Turf managers in the country, managing the best sports field in the nation," shared Andrew Miller, agriculture teacher and program director.
The students in the program are proud of their achievements. Carly O'Leary, a senior in the program, recounted the long hours, freezing early mornings, and the teamwork required of them.
"The students in our program work not only for each other but with each other. Without the structure and guidance, we have received within the Brentsville Turf Program, we would not be where we are today, as the home of the country's best natural grass playing surface," she said.
Addison Butler, sophomore, really believes in the program. "To me, this award means that this year we have worked to our full potential as a program and are really making a name for ourselves in the industry."
The turf management program at Brentsville was developed to give students the opportunity to learn what it takes to be a Turfgrass manager. The class is a hands-on learning experience where students demonstrate the different cultural practices that industry professionals use daily.
Check out the video below to learn more about the program.