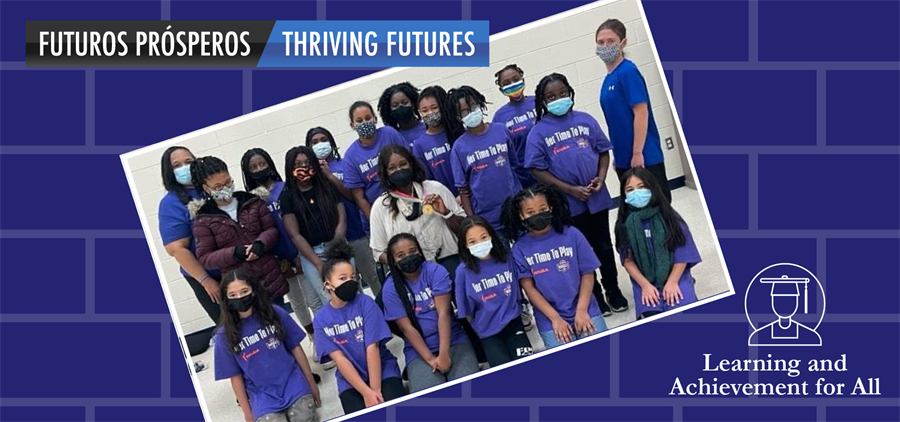 Fitzgerald Elementary School's girls' basketball club recently welcomed Olympic Gold Medalist Benita Fitzgerald-Mosley. The Olympian talked with students about setting goals.

Fitzgerald-Mosley showed students her gold medal and shared her story about winning it in the 100-meter hurdles event at the 1984 Summer Olympics hosted in Los Angeles. The win made history as she became the first African American woman to win a gold medal in this event. She was not favored to win the top spot, but as she explained in her presentation to students, "you can accomplish anything you put your mind to, and if you work hard, you can do it." She told students to "conceive it, believe it, and achieve it."

Fitzgerald-Mosley is a native of Prince William County. She graduated from Gar-Field High School and Fitzgerald Elementary is named for her mother, Fannie Fitzgerald.

Principal George Wright said he is excited to see the girls' basketball club engaging with motivational role models. He added his pride in the fact an office assistant, Nikki Moore, stepped up to co-sponsor the club.

"It's important that students connect with as many people as possible. Learning takes place in many forms and with a variety of people. The support staff at Fitzgerald is invested in the well-being of students. It's important that they are given the opportunity to demonstrate their support for kids. At the end of the day, it increases the positive outcome for kids and adds to the learning experience. Every role in public education is valuable and this shows that," Wright explained.

Moore hosts the club with Elizabeth Jones, the physical education teacher. Moore coordinated Benita Fitzgerald-Mosley's visit with help from Kim (Fitzgerald) Lennon, who is not only a kindergarten teacher at Fitzgerald, but also Benita's sister.

"I want the girls to believe in themselves. If they see others who have accomplished great things it will motivate them to do the same, and not give up on their hopes and dreams. I believe when you are a leader you can inspire others," Moore shared.

Students also received inspiration from the Washington Mystics Women's National Basketball Association (WNBA) team. The team sent gifts that included shirts, pencils, and autographed photos of the players.

The club is open to fourth and fifth graders. Not only are the club members being taught how to play basketball, they are also learning about teamwork and leadership skills.

Moore is also a former PWCS student. She played basketball at the former Brentsville Middle School and at Unity Reed High School.