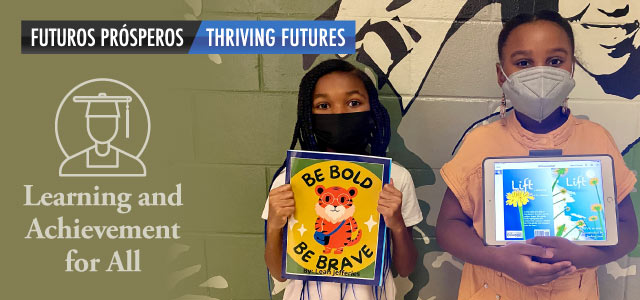 When looking for a way to spread kindness, two Springwoods Elementary School students turned to writing. Leah Jeffries, fourth grade student, and Kartyr Mainor, fifth grade student, each authored and published a book centered around being kind. Jeffries wrote "Be Bold, Be Brave," a book of mantras and affirmations that encourages kids to be kind to themselves, while Mainor wrote "Lift," a metaphorical story about flowers meant to help kids understand the importance of respecting their parents.

Both students have a passion for writing, thanks to experiences at school. Mainor first found a love for poetry and writing through class assignments. Jeffries found that love after a visit from an author.

"I remember in second grade, the author of 'Pete the Cat' came [to Springwoods] and inspired me," said Jeffries. "I thought that maybe I can write books, too."

Since then, writing has become a hobby for Jeffries. When she learned about bullies and ways that kids can be unkind to one another, she wanted to use her talent for good. With support from her aunt, who is an author of three books herself, she compiled positive phrases and affirmations into "Be Brave, Be Bold," which she hopes will empower young readers.

Similarly, Mainor has a family inspiration as she attributes some of her passion for writing to her father, a poet. With encouragement from him and her mom, she continues to write and look for ways to use that passion to help others. This led to "Lift," a story she created after seeing television shows that depict kids being disrespectful to their parents.

"I always liked that you could write and change the world by doing what you love," said Mainor. "I wanted to help kids form a strong bond with their parents and have a good relationship [with them]."

Moving forward, both students want to write and publish more books, including sequels to "Be Brave, Be Bold" and "Lift." Until then, they will continue to practice their writing and spread kindness in any way that they can.