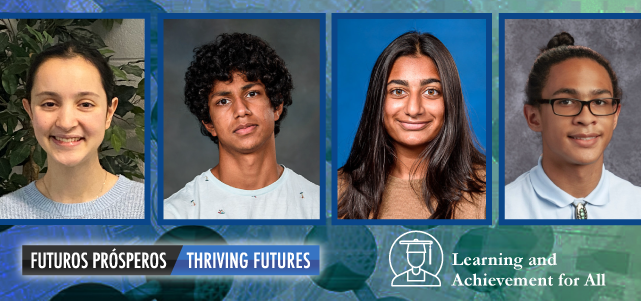 Congratulations to the 122 middle and 99 high school students whose projects were selected to compete at the 2022 Prince William-Manassas Regional Science and Engineering Fair. Their presentations were evaluated by more than 87 category judges and 36 organizations in a virtual forum on March 5-12.

All students will receive a certificate of participation and winners will be presented with a monetary award and a trophy. The Division will also sponsor first and second place finalists from the senior division to compete in the Virginia State Science and Engineering Fair in April.

Four projects in the senior division were awarded a grand prize:
"A Low-Cost Deep Learning Solution for Early Detection of Lettuce Stress in Indoor Farms" by Naman Agarwal, a junior at Patriot High School and The Governor's School @ Innovation Park;
"A Novel Visualization Tool: Application to RNA-sequence Classification" by Ebru Ayyorgun, a junior at Battlefield High School;
"The Effect of Casein Polymers on the Filtration of Heavy Metals and Contaminants in Well Water" by Desmen Boykin, a junior at Forest Park High School and The Governor's School at Innovation Park; and
"Dozing off with Drosophila: The Effect of Disrupted Sleep and Circadian Rhythms on Mood, Addiction, and Mortality" by Rania Lateef, a freshman at Charles J. Colgan Sr. High School.
The students' projects will participate in the International Science and Engineering Fair; the Division will sponsor our grand prize winners to attend and compete at this event in Atlanta, GA, in May.
"I would like to express my deepest appreciation to everyone who supported our students and their research during another challenging year," said Julia Renberg, supervisor of the PWCS Science and Family Life Education Program and director of the Prince William-Manassas Regional Science and Engineering Fair. "Even as a virtual event, the regional science and engineering fair remains a quality experience and an invaluable opportunity for our students. Congratulations to all the regional fair participants and best wishes to those who will be representing our Division at the state and the international events."

A full list of winners and the event programs are posted on the Prince William-Manassas Regional Science and Engineering Fair webpage.