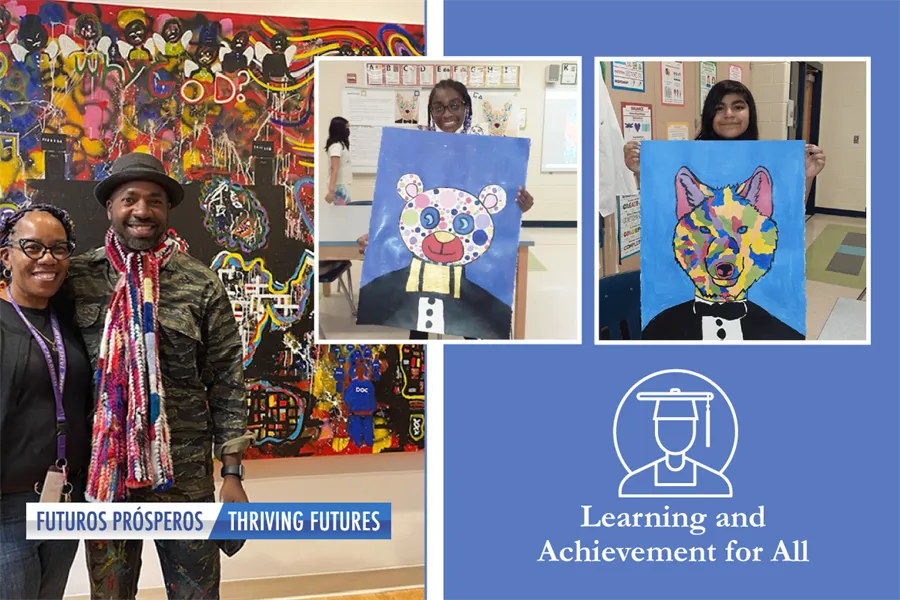 Dr. Laura Cherry, art teacher at Fitzgerald Elementary School, did something different with art education this year. She created and implemented a year-long curriculum based on the artwork of contemporary artist, Chris Wilson. Cherry sends Wilson daily pictures of the students' work, showing their progress on various projects at the different grade levels. In return, the artist sends students positive feedback, as well as a personalized video tour of his studio, and helps teach them about art, resilience, positive attitudes, and hard work.

"I looked for a local artist that the students could form a relationship with for the 2021-22 school year, so they could understand art as a career and an experience that happens currently, not only in the past. Finding Mr. Wilson, a young African American male who is excited to share his artwork with the kids, has been such an exciting adventure for all of us involved," said Cherry.

Wilson, whose home studio is in Baltimore, recently returned from his New York studio to give some Fitzgerald Elementary students and staff a personal tour of his one-man show and exhibit currently on display at Baltimore's Julio Art Gallery located on the Loyola University campus. He talked at length about each painting, encouraging the students to ask questions, and spending more than two hours with the small group of Cherry's after-school art club students. After signing a few autographs, Wilson let the students know he had seen the bow-tie paintings they created and wanted to purchase all of them to display in the offices of his nonprofit foundation.

"Bow-tie paintings represent a time in Chris' life when he felt different from those around him, but he continued to feel confident despite feeling different," said Cherry. "I used this when we created our 'dog -in-bow-tie' series and as a conversation-starter to ask students if there was ever a time when they felt different and/or confident. It was a great way to have students share their feelings and ideas, engage in meaningful conversations, and get to know each other."

In addition to art instruction during the day, Cherry began offering an after-school art club in 2008. She shared that students have really enjoyed their time in art club this year; so much so, they asked to have the club meeting time extended from one hour to two. Cherry and her husband supply snacks and pizza dinner for the Wednesday night meetings, and art supplies are donated by a local business.

Cherry and Wilson hope to schedule a schoolwide assembly to bring the artist for an in-person visit to Fitzgerald this year, and they have plans to replicate this learning and mentorship program for other student populations.