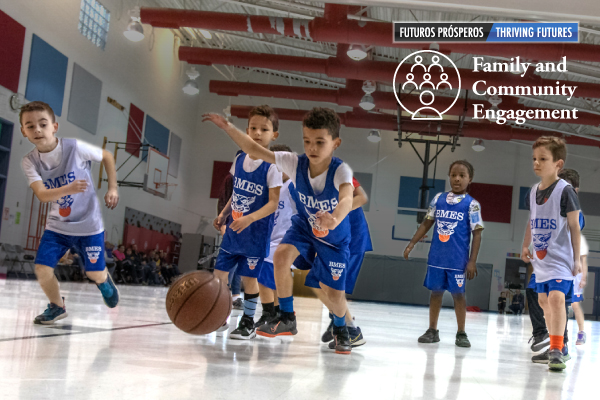 For many youngsters, Saturday mornings are opportunities to catch up on sleep, but not for the Wildcats of Buckland Mills Elementary School (BMES). Promptly at 8 a.m., a whistle blows at center court and a basketball is tossed into the air. For the next six hours, approximately 186 students display fundamental skills they've learned about the game of basketball.
Teams of students are divided into three groups of six that compete against one another. Kindergarten and first grade play the first three games of the day, with the height of the hoop set at 8 feet. Second and third grade play next with the rim a foot higher. Finally, fourth and fifth graders wrap up the day, shooting the ball at the regulation height of 10 feet.
The league is a brainchild of James Johnson, BMES physical education teacher. Recognizing a need, Johnson started the program in 2008 to establish a safe place for kids to try the basketball experience. "I discovered that many young kids wanted to experience the sport but did not have the confidence to try. I wanted a basketball club that was built around a school community where everyone felt included - regardless of skill level. A program that embraced special needs students and children that were economically disadvantaged from the high cost of joining a travel recreation league."
Students practice one hour per week with a parent who has volunteered as a coach. Johnson provides advice to coaches on areas of focus, based on grade levels. Stealing the ball is discouraged so students can better learn the fundamentals of the game. Each contest consists of four six-minute quarters with one-minute breaks between. Halftime lasts two minutes.
Concessions are available during games, manned by parent volunteers. Funds from sales subsidize the costs of uniforms, registration fees, and the end of season banquet. Former BMES league alumni, Andre and Alex Stroud, volunteer their time as referees for many of the games. Both attend Battlefield High School (BHS).
"I started playing in Kindergarten and I fell in love with the game while in the program. Today, I play in tournaments all across the east coast against some of the best kids in my class, Andre said. Alex has not pursued basketball since his experience in the league, but is involved in the football program at BHS. "I enjoyed practicing in the program as it was extremely fun and a good way to stay active and play with my classmates, He added.
The season ends with an all-star game, followed by a banquet. Each team family provides a dish to share and the league provides utensils and drinks. Finally, trophies are awarded to both students and coaches in celebration another successful season.