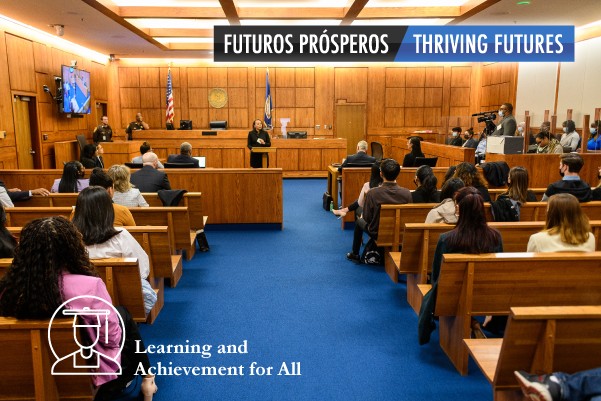 How do jurors reach their verdict? How does the court system ensure a fair and impartial trial? How can I pursue a career in the legal system?

These are just a few of the questions that legal professionals answered as high school students from Prince William County Public Schools (PWCS) came face-to-face with the local justice system through a program called JUSTice LIKE ME.

The program, held at the Prince William County Circuit Court building, began with students serving as jurors observing a mock trial. With assistance from real lawyers, judges, and law enforcement personnel, the students deliberated and reached a verdict. After their verdict, each law professional shared a bit about their own career paths, gave advice to students, and answered questions. At the end of the day, one lucky student from each school won a raffle to shadow a local lawyer for two weeks this summer.

"[I hope students take away] insight into the justice system and how it works and an understanding of the variety of pathways into careers serving the justice system and the public," said Carla Drew, assistant principal at Patriot High School. "It's important for our students to see that the justice system here in Prince William County looks like them, that there are a variety of backgrounds representing the variety of backgrounds in our county," she added.

Among the law professionals in attendance were Judge Jacqueline Lucas, a PWCS graduate from Unity Reed High School, whose mother is an assistant principal at Patriot High School. Also present was Judge Carlos Flores Laboy, the first Latino judge appointed to the Prince William County bench whose wife is a teacher in the School Division.

"To see a judicial bench that represents the community it serves shows students the impact they can have by pursuing a career path serving the community in this way," said Drew. "This is an opportunity for students to see that the justice system represents all of them, hence the name of the program, 'JUSTice LIKE ME,' because the justice system looks 'just like me."