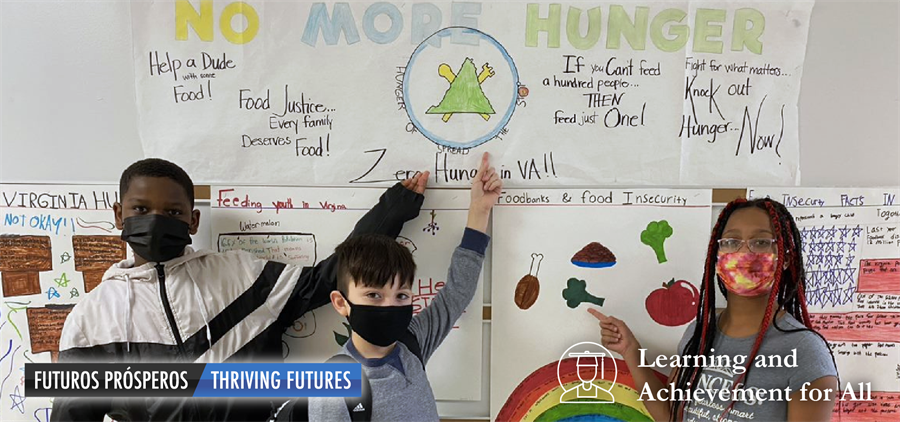 At King Elementary School, a project-based learning initiative to raise awareness about hunger unleashed contagious, creative energy. Fifth grade students learned how they can make a difference in the community.
In a language arts lesson about problem and solution patterns, Laverne McDowell, a fifth-grade teacher, presented information to her students about what food insecurity is and the impact it has on families. This piqued student interest and inspired them to dig deeper.
"Students worked on the project over an extended period. They spent weeks analyzing hunger data in Prince William County and Virginia. They met and collaborated on how to get involved and how to get the message out to our school community, shared McDowell."
Using the information from their research, students demonstrated their knowledge by creating message boards, badges, banners, posters, and writing newsletters to raise awareness about the issue. Some of the message boards are displayed on a table in the lobby of the school. A "hunger jar" sits on the table where students and staff can donate money that will be sent to local food banks.
"I truly believe in project-based learning because it allows students to investigate and respond to an authentic, engaging, and complex problem that the world is facing. We need young people who are willing and able to tackle the challenges of their lives and the world. Students can solve problems that are important to them and their communities," McDowell said.
The project-based learning initiative made a lasting impression on students. While reflecting on their efforts, Adriana said, "I learned that not all people get three meals a day. And that we need to pay more attention to situations like these. Also, if you can help one person, it would make a big difference."
Mia shared, "It was an honor to do this project. I learned that we can all do something to help each other. I can get families together and we can plan food drives."
Diana added, "I learned so much from this project. There is no other word to describe this project, but amazing. I will remember everything that we did, and I will inform more people about food insecurity in our communities."