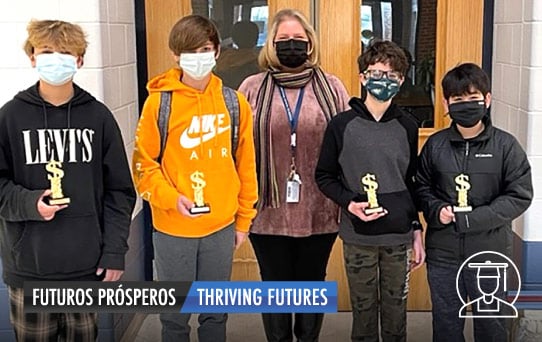 Students at Marsteller Middle School had the unique opportunity to take part in a real-word simulation of the stock market. The after-school club, organized by gifted education teacher, Kerry Adkins, took part in the Stock Market Game, a comprehensive economics and personal finance education program for students developed and administered by the Security Industry/Financial Market Association (SIFMA) Foundation.

To compete in the game, teams of two to four students are given faux portfolios of $100,000 to invest and manage. The simulation allows the teams to choose their investments, manage their money, and learn about the inner workings of the market and the financial system.

"The Stock Market Game is hands-on learning at its best, enabling individuals to prepare for social, economic and civic opportunities, choices, and decisions they'll be making in life," said Melanie Mortimer, president of the SIFMA Foundation.

Marsteller Middle students made up 12 of the 37 teams that competed this fall and were the only middle school teams playing against teams from five different high schools throughout the region. Even with the tough playing field, Marsteller's teams came out on top, placing first, second, and third in the George Mason University region with the largest amounts in their portfolios at the closing bell.

"The Stock Market Game offers young people a different way to learn," Mortimer said. "They're immersed in the markets and given the tools to research, make informed decisions, and see how their investment choices perform."

Adkins thoroughly enjoyed this experience with the students at Marsteller. "I was thrilled that 41 Marsteller students participated in the game. It is an extremely engaging way to teach financial literacy and work on team-building skills. The greatest feedback I receive about the program comes from students and parents. They tell me about the conversations they have at home about the Stock Market," expressed Adkins.

The winning teams will be recognized by the George Mason University Center for Economic Education in May for placing in the top of their division this fall.