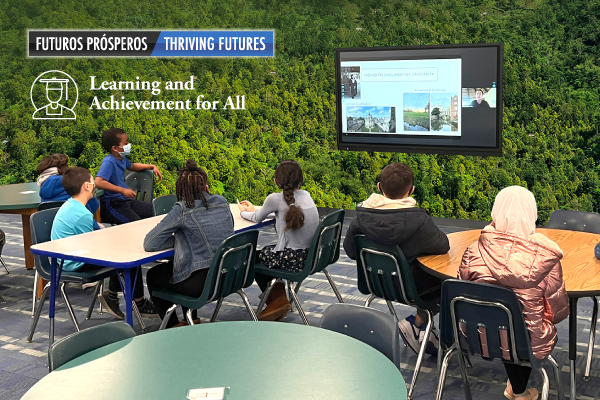 The inquisitive minds of students on Penn Elementary School's Green Team want to know "What do Jaguars eat?" and "Can our food choices help with sustainability?" They took a trip to Namibia, a country in the southern part of Africa, to have their questions answered by a scientist. Thanks to the wonders of technology, no transportation was needed for the approximately 7,300-mile journey.

At Penn Elementary, the Green Team leads the school's energy conservation and sustainability efforts. Christy Parthenakis, an administrative intern, coordinates the group of third through fifth grade students who meet before school. She arranged the meeting with Erin Connelly, a conservation biologist, through Skype a Scientist, a nonprofit organization that connects students with scientists throughout the world.

"Penn's Green Team is focused on energy and sustainability, so I asked to be matched with a scientist who works with conservation, recycling, or sustainability," Parthenakis explained.

Connelly studies how humans and wildlife can coexist and share resources. During the meeting with Penn students, she shared information about her previous work in Kenya where she assisted farmers who were struggling because cheetahs were killing their livestock.

She explained, "They didn't want to kill the cheetahs because that would defeat the purpose of wildlife conservation. So, they added guard dogs to their farms. The dogs protect the livestock by scaring off the cheetahs." Connelly has been living in Namibia since January 2022, where she is conducting the same research.

Parthenakis said, "These types of opportunities give students a chance to meet someone in a career that connects their school experience to the world beyond their own community."

Gabriel, a fifth grader, enjoyed the experience, "It was my first opportunity to talk to an actual scientist. When we do research, it's usually just finding information in books. Talking to a scientist in person was cool because we get to see things from her perspective and hear about her studies."

Connelly encouraged students to "get outside because nature is everywhere, but when visiting natural spaces, take care of them." She offered simple tips to students about how they can support local conservation efforts.