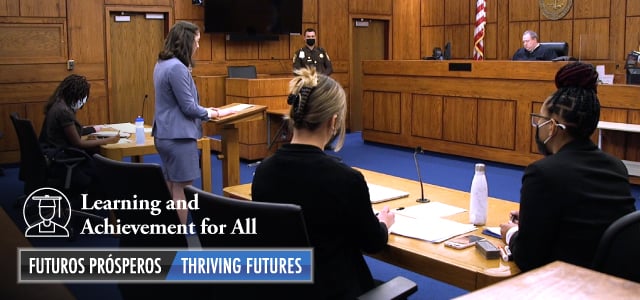 Prince William County Public Schools (PWCS) high schools students had the chance to experience aspects of such law-related career interests as criminology and legislation first-hand when the Prince William County Circuit Courts opened its doors recently to simulate a true courtroom experience.
Students in PWCS law clubs and model judiciary programs thought their hopes for an in-person mock trial competition were dashed after the Northern Virginia Model Judiciary Mock Trial event was moved to a virtual setting. That's when officials from the County judicial system, in conjunction with the Sheriff's Office, opened their doors for students to use the courthouse to host their mock trials.
Thanks to the efforts of Patriot High School teacher and Law Club advisor, Randi Warren, and others, it's the first time the mock trials have been hosted in Prince William County. The students walked away with gratitude for the generosity of their hosts along with new appreciation for the justice system and related career fields.