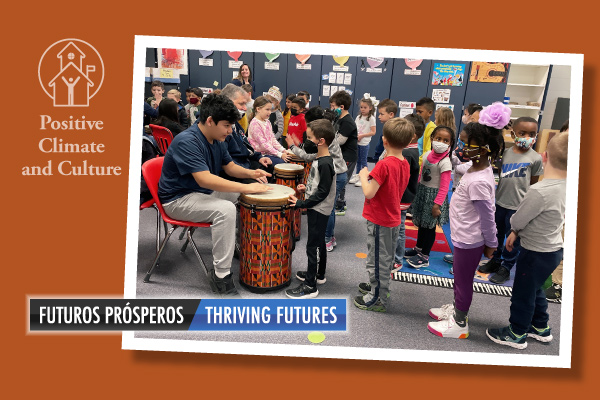 Every Wednesday morning in the T. Clay Wood Elementary School music room, the sounds of drumming echo down the hallways as 10 fourth and fifth-grade students gather for a weekly Drumbeats music session. Drumbeats is a social, emotional, and leadership-skills building program for students. Each session starts with an ice breaker, such as rumbling. Rumbling is when students continuously tap the drum to create a "rumble" rhythm. Students rumble with the drums focusing on positive aspects in their life, such as rumbling if they are looking forward to a great day or rumbling if they love to read.

Andrew Buchheit, principal at T. Clay Wood Elementary, started the Drumbeats program at the school to provide more social-emotional opportunities for students.

"I have enjoyed working with the students and hearing their thoughts on how to include others, make friends, show and gain respect, and the importance of harmony. I have no rhythm myself - so I truly enjoy working not only with our talented students, but our talented music teacher, Ashley Meyer and our talented school counselor, Amy Cunningham," Buchheit shared

Drumbeats is an evidence-based social, emotional, and leadership-skills-learning program that uses a combination of five core elements to build healthy social interactions and emotional learning, social connection, and development of supportive relationships to empower individuals.