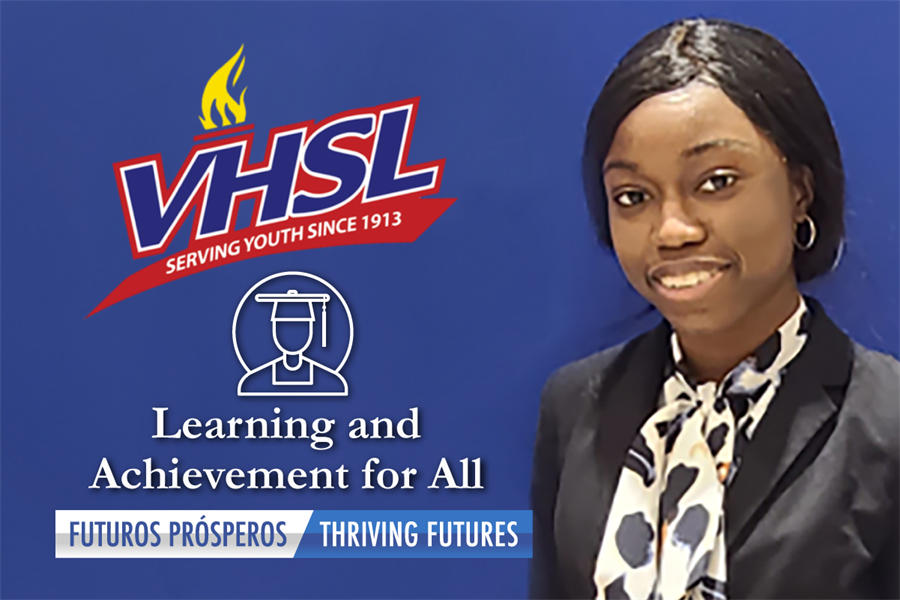 Ashleigh Clyde, a senior at Osbourn Park High School, won first place at the Virginia High School League (VHSL) State Forensics Championship in Original Oratory. Forensics, a program under the VHSL academics section, is a challenging performance competition in which students engage in debate or formal argumentation. The Original Oratory category is persuasive speech that is well-researched, has limited quotations, and is memorized with an average length of 10 minutes.
Ashleigh has competed in forensics since she was a high school freshman and has advanced to the state competition level every year. She also served as president and captain of the Osbourn Park High Speech and Debate Team for two years. In addition, Ashleigh is a member of the National Honor Society, and supports her passion for public speaking through other journalism and broadcasting activities. She is a Youth Salute participant, was part of the George Mason University Courageous Conversations, and participates in BridgeUSA, a student-led organization aimed at promoting dialogue and solution-oriented politics over polarization and division.
"OPHS has phenomenal academic resources, especially as it pertains to Advance Placement classes," said Ashleigh. "With AP Seminar and AP Research, I have learned how to research effectively and how to create strong argumentative and persuasive writing pieces. Being in an academically rigorous environment gives me a competitive edge at tournaments."
VHSL Forensics stimulates student interest in speech and debate and is meant to further their cultural and educational development. According to Dr. Christina F. Melvin, biomedical science instructor at Osbourn Park and the debate/forensics team coach, speech and debate offer many educational benefits and opportunities for students.
"Students develop confidence in their ability to express themselves both verbally and nonverbally and build organizational skills which are helpful across curriculum," said Melvin. "They learn that words are powerful, encouraging them to research meaning and use critical thinking skills for expression. Students improve their writing and literacy through reading the works of others and communicating both meaning and perspective. Finally, these events prepare students for discovery and exploration of the world around them by staying current on world events and building skills of interpretation, advocacy, and empathy."