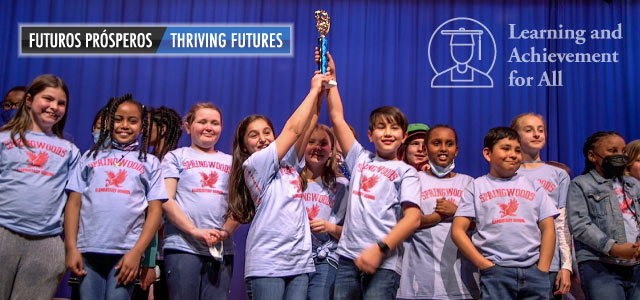 Battle of the Books is a program that encourages reading and comprehension. The competition core reading list includes 10 books. Rising fourth and fifth grade students receive the list of the books before the end of each school year. Teams begin meeting at the beginning of the following school year, discussing the main elements of a story: setting, character, plot, conflict, and theme, etc. Students are then quizzed on these elements and what book they were found in.

Students from 20 PWCS elementary schools spent many hours preparing for the 10th Annual PWCS Elementary School Battle of the Books. Competitive brackets were formed, preliminary rounds were held, and nine semi-finalists went head-to-head in the final competition at Patriot High School.
Congratulations to Springwoods Elementary School for winning this year's Battle of the Books.