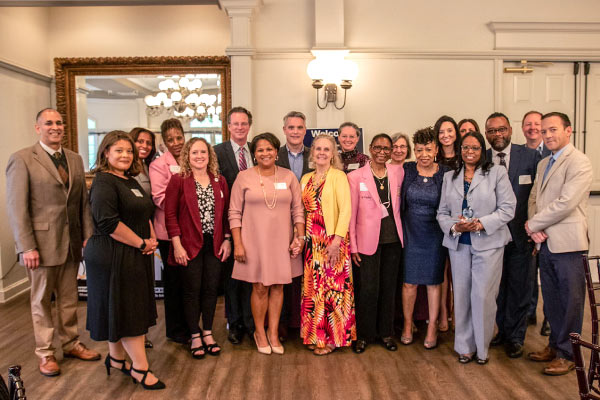 Each year, SPARK, the education foundation for Prince William County Public Schools (PWCS), works closely with business leaders to identify business and community partnerships, making the most positive impact on academics and student achievement. 
This year, SPARK was pleased to present the 2022 Business Partnerships of the Year recipients at a Business Partnerships of the Year Dinner held recently at Old Hickory Golf Club
Superintendent of Schools Dr. LaTanya D. McDade, and School Board Chairman At-Large, Babur B. Lateef, M.D., shared their congratulatory remarks and spoke on the importance of school to business partnerships and the value they bring to the community.
Dawn Davis, executive director for SPARK announced the 2022 Business Partnership of the Year awardees:
The Aviation Institute of Maintenance (AIM) and Career Technical Education -The mission of this partnership is to establish a Federal Aviation Administration (FAA) approved aviation maintenance program in PWCS. This opportunity provides students with the exposure and prospect to enter the aviation field. Students in the program gain exposure into the aviation field with a continuing pathway into an aviation maintenance career.
Park Valley Church and Mountain View Elementary School - For a decade, this partnership has supported many families in various ways through collaborative efforts.. The coordinator, Sylvia Boone, along with counselors and social workers at Mountain View Elementary, work with families in need to create wish lists for their children. Church volunteers from Park Valley Church shop for each child to meet individual needs and wishes, and provide items needed for a special meal. The church committee also collects and organizes tables of gently used clothing for children and adults to take as needed. . The rapport built through this community support and the school with our families continues to make a positive difference year to year.
Top Ladies of Distinction, Inc. Dale City-PW Chapter and Minnieville Elementary School -The mission statement of Minnieville Elementary School can be summarized by three key words- commitment, collaboration, and community. Minnieville Elementary has been honored to work with Top Ladies of Distinction, Inc. Dale City-Prince William, as they have gone above and beyond in their support for Minnieville student.. Through their many initiatives such as the Literacy Initiative, Eagle Express bookmobile, and socially-distanced learning playground. As well as providing hats and gloves during the winter and delivering hundreds of child size masks during the pandemic, Top Ladies of Distinction have been there for our students.
The 2022 Sharon Henry Partner in Education Award, renamed in 2019 to recognize the 13 years of service of past SPARK executive director, Sharon Henry, was awarded to Radhika Bajaj, founder and president of Bookworm Central.

Radhika Bajaj has devoted the past 30 years to building a children's book distributorship that provides offerings to promote the love of books and reading in the community. Whether it is fundraising book fairs for schools, or literacy programs to support at-risk students, the focal point of these endeavors is to nurture strong and consistent reading practices among all children, so that they may be prepared, inspired, and motivated learners for life.

When Bajaj completed her graduate degree in English Literature she combined her knowledge with six years of prior business experience to start a company focused on literacy, quality literature, and raising funds for schools. Today, she continues to work closely with schools, their leadership, and other community partners to identify and address today's wide-ranging literacy challenges. Bajaj also serves on boards and committees that support the work of schools and the educational process. Bajaj strives, both personally and professionally, to provide for others the opportunities and experiences she was afforded as a child - the magic of books and a deep love for learning.

The 2021 Business Partnerships of the Year recipients were also formally honored, as they were unable to be celebrated previously, due to COVID-19.
The 2021 Business Partnerships of the Year awards were presented to:
Sentara Northern VA Medical Center and Practical Nursing at Osbourn Park High School - This partnership offers our students the mandatory clinical experiences with instructors. Sentara Northern VA Medical Center has consistently allowed our students to earn their mandatory clinical hours at their facility. They have impacted over 300 students by allowing them the hours required for graduation and by supporting scholarships to several of our students each year. They have helped to ignite a passion for nursing in these students enabling them to continue their education and go on to become doctors, registered nurses, cardio-thoracic perfusionists and even doctorates of nursing practice.
UVA Health - UVA Health (at the time, Novant) joined forces with Prince William, Manassas City and Manassas Park schools to vaccinate employees of the three area public school divisions. In February 2021, UVA Health received a weekly allotment of nearly 3,000 doses of the Pfizer BioNTech-COVID-19 vaccine from the Prince William Health District. Employees of Manassas City Public Schools and Manassas Park City Schools were invited to attend a vaccine clinic at Unity Reed High School to receive their first dose of the Pfizer BioNTech-COVID-19 vaccine. Due to the large population size, Prince William County Public Schools led efforts to prioritize its employees based on highest risk. It took about 4-5 weeks to inoculate about 11,000 Prince William County Public Schools employees with their first dose.
This year's Business Partnerships of the Year Dinner was graciously sponsored by RRMM Architects and Micron, with both businesses having representatives in attendance. In addition, School Board Members Lillie Jessie, from the Occoquan District, Jennifer Wall, from the Gainesville District, and Lisa Zargarpur, from the Coles District, also attended.

"SPARK is truly grateful for the continued support of our business partners. This year's recipients exemplify community outreach and support for our PWCS students and teachers," said SPARK Executive Director Dawn Davis.