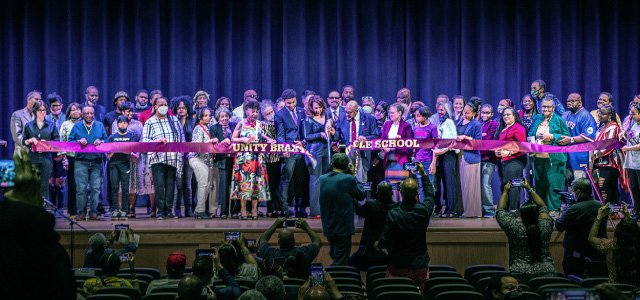 Students, teachers, staff, and community members celebrated the renaming of Unity Braxton Middle School, formerly Stonewall Middle School, in a ceremony on May 10. Unity Braxton Middle is in the Gainesville District, serving students in sixth through eighth grades. 
The renaming ceremony was delayed due to COVID-19. In June 2020, the Prince William County School Board approved a resolution to rename Stonewall Jackson Middle School to Unity Braxton Middle School. Unity Braxton honors the legacies of Carroll and Celestine Braxton. Carroll Braxton led a rewarding career as a Master Gunnery Sergeant in the United States Marine Corps and is a Congressional Gold Medal recipient. Celestine S. Braxton served as an educator with Prince William County Public Schools for 33 years.
Principal Mike Nicely hosted the renaming ceremony in the school's auditorium. 
Several dignitaries, including Superintendent of Schools Dr. LaTanya D. McDade, and School Board Chairman At-Large Dr. Babur B. Lateef spoke of their excitement for students and staff under the promise of the new school name.
The Braxtons' daughter, Monique Braxton Fordham Royster, shared her heartfelt thanks with the school community for honoring her family's legacy and her family members from near and far for attending.
View the video below for a look inside this special evening honoring the distinguished Carroll and Celestine Braxton.