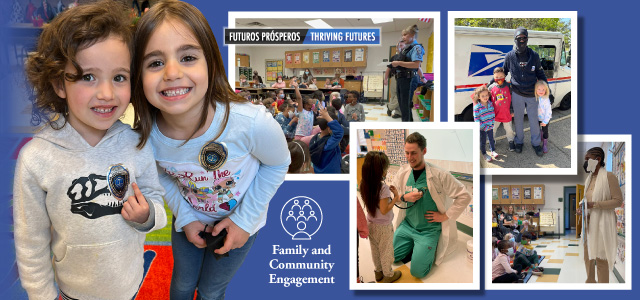 Visits from local community members, including a dentist, postal worker, and librarian, were the highlight of a social studies unit on community helpers at Rockledge Elementary School. Through interactive presentations, kindergarten students learned how these helpers keep their community safe, healthy, and informed.

"Our community helpers brought exciting examples and visuals for our students," shared Chelsea Gelman, kindergarten teacher at Rockledge Elementary. "These instruments, examples, and tools provided such a rich language experience for all our students, particularly those who might be learning English in addition to another language."

This two-week long lesson came together, thanks to the hard work of the kindergarten teaching team and their commitment to providing students with hands-on learning opportunities.

In the planning stage, there were times when a potential visitor did not work out, but the team persisted, Gelman emphasized. They continued to reach out to local businesses and organizations until they found someone able to help. Ultimately, it was the partnerships established between the school division and the community, as well as the generosity of so many, that made this event a success.

"We were so fortunate to have so many community members willing to visit us that we were able to schedule visits over the course of two weeks," added Gelman. "We all had a great time connecting with so many local community businesses and organizations and are hoping to continue this experience for years to come."