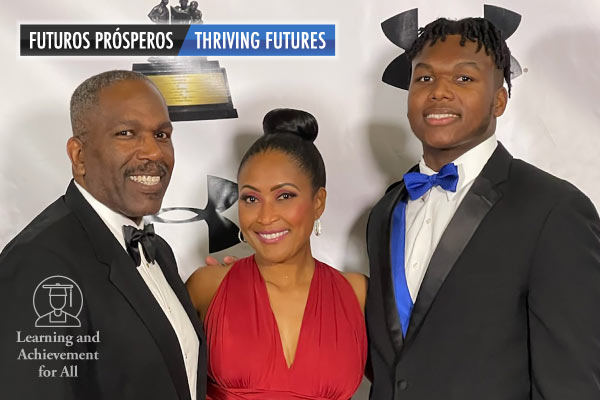 Congratulations to Wesley Williams, senior at Battlefield High School, for his recognition by the National Alliance of African American Athletes as one of six members of the Franklin D. Watkins Memorial Award Class of 2022. The Watkins Award recognizes premier African American male high school scholar-athletes. Williams and the other seniors were honored recently at a celebration in Bethesda, Maryland.
This year's Watkins Scholar-Athletes were selected based on their unweighted grade-point average, personal statement/essay, extracurricular activities, documented community service, athletic prowess, and letters of recommendation.
Williams' impressive resume includes maintaining a 4.2 grade point average while being a stand-out defensive end on the Battlefield High football team. Williams also played varsity basketball for the Bobcats. He immersed himself in other activities in and out of school including the DECA Inclusivity Project and the National Honor Society. He also participated in the Buddy Club to help students with special needs and mentored youth football players.
"What stands out most to me about being a Watkins Award honoree is the unique network of people that it creates," said Williams. "There are a lot of people who have gone through similar experiences as myself and are eager to give back by helping guide me."
According to the Watkins Award webpage, Watkins Trophy Award finalists are expected to be leaders in efforts to empower and improve disadvantaged communities. These exceptionally talented African-American male athletes, by their example, help promote high academic standards and a commitment to community service.
Wesley Williams will play football on a scholarship at Duke University this fall.
Read more about the Watkins Award and the Class of 22 honorees.