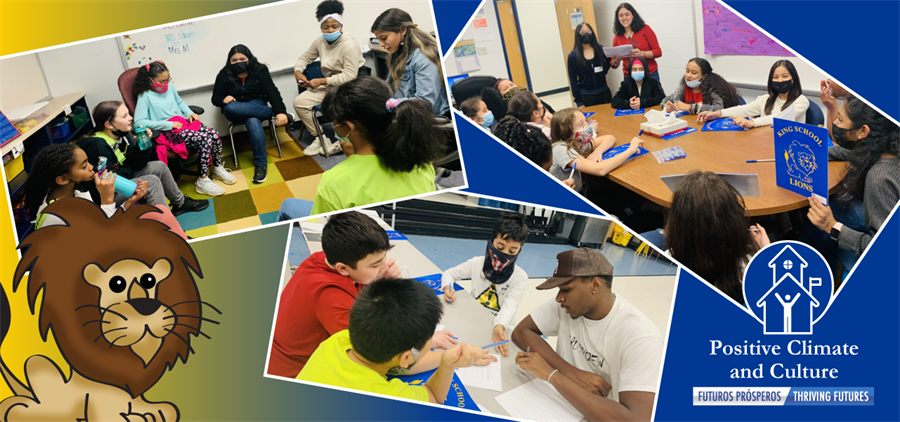 PWCS educators are charged with not only teaching academics but preparing students to become successful, productive adults. At King Elementary School, the Young Men and Women of Distinction is a mentor program designed to help meet this goal, and it's a community effort. Community volunteers that include retired military and cadets from C. D. Hylton High School's Air Force Junior Reserve Officer Training Corps have joined a team of King Elementary educators to serve as mentors for all fifth grade students.

The mentors received training and support from King Elementary's school counselor, Ursela Daniels, school social worker Amanda Norah-Brooks, and Ayanna Petrie, a special education teacher. Then they met with the fifth graders twice a month for an hour.

The mentor program taught skills that the King students will need to be successful not only in middle school but high school and beyond. Students learned how to demonstrate empathy, compassion, and respect for others, as well as healthy habits and coping strategies that can be used to persevere in the face of adverse circumstances. Students were inspired to believe in their self-worth and have confidence in their own abilities.

LaShondra Rice, the assistant principal, explained, "For our students to focus during class to achieve academic success, students need to feel included and connected. The program focused on positive social interactions and healthy emotional wellness. Our goal is to empower students, through guided mentorship, to make a difference in their lives and the lives around them."

The program, which started in January, was successful. Adrianna, a fifth grade student, said, "I've learned that it's better to express your feelings than to keep them in." Her classmate, Daniel shared, "The program taught me how to be a better friend and respect others."

King saw an increase in their standards of learning (SOL) math and reading test scores, which they attribute, in part, to the mentor program. More importantly, though, the mentors became additional trusted adults that students were able to connect with and receive support from.

This coming school year, King plans to start the program in October and increase the meeting time to two hours, twice a month.