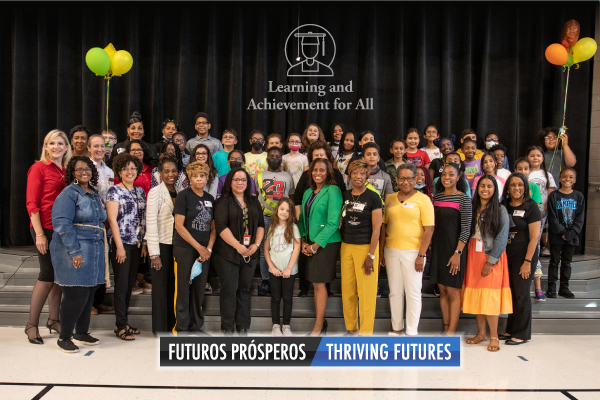 John D. Jenkins Elementary School, in partnership with the National Coalition of 100 Black Women Prince William County Chapter, Inc., (NCBW/PWCC), organized the Leader-in-Me-Leadership Financial Literacy Program, a mentorship program for elementary students. In the 2021-22 school year, the program helped 47 students in grades three through five open savings accounts at Apple Federal Credit Union (AFCU), a partner in the program.

Key members of the community gathered for a year-end celebration of this year's participants and recognized the top four students who saved the most money. In first place, fifth grader Eliana Quarshie was awarded $100, second place winner, Keiry Giron Orrego, third grade, received $75, in third place, Kiana Savage, fifth grade, received $50, and in fourth place, Austin Withers, fourth grade, received $25 to contribute toward their savings.

Eric Pene, a fifth grade student at Jenkins Elementary, spoke during the celebration describing what he learned in the program this year. He shared, "I feel like I gained a greater grasp on financial literacy, and I learned how to apply it in the real world."

Nicole Boissière, gifted teacher at Jenkins, described a lesson covered by the students, stating, "In our lesson, 'Let My Money Work for me,' members of the NCBW/PWCC launched an interactive presentation about spending money wisely, followed by a read-aloud of the book, 'Meko and the Money Tree,' by Eulica Kimber. Afterwards, students discussed the difference between spending money on the things you want now versus investing it for future gain."

Xanthe McFadden, principal at Jenkins, shared more about the program benefits, "Students participated in monthly sessions that focused on the '7 Habits for Healthy Kids,' and financial responsibility. They learned that it is never too early to save and that you should always begin with the end in mind. These are important lessons that will stay with our students for life."

"I am so grateful to the NCBW/PWCC and AFCU for their partnership. Thanks to these two wonderful organizations, and our teachers, Nicole Boissiere, Angela Savage, and Stephanie Terezon, our students received the opportunity to learn about financial literacy, leadership, and increased their knowledge of the math skills that they learned in school," McFadden continued.

The NCBW/PWCC chapter members were instrumental in implementing the afterschool program that educated students on money-saving skills and leadership. Going above and beyond, NCBW/PWCC members raised money to donate $10 to each student who opened their own savings account. Each returning student with an open account received an additional $10 for each year of attendance in the program. The chapter members devoted their time and energy into the program, helping students develop important skills in leadership, mathematics, and financial literacy.

Katie Knight, community engagement officer for AFCU, shared, "We are honored to participate in the 'Importance of Savings' lesson and love hearing what students learned at the year-end ceremony. It's win-win-win partnerships like this one that help Apple continue the work of our purpose-to improve lives and fulfill dreams."

In a statement highlighting the important work the NCBW/PWCC has conducted with the financial literacy program at the school, Dr. Alice H. Howard, first vice president of chapter programs shared, "The NCBW/PWCC is elated to partner with Jenkins and spearhead the Leader-In-Me Financial Literacy mentoring program. We executed an amazing end-of-the-year celebration for our talented and precious mentees. Together, we made an impact on the lives of our youth through leadership and financial literacy."