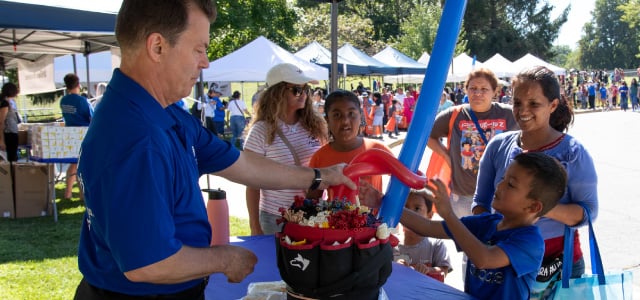 Parents, students, and school staff enjoyed an evening of community engagement at a school year kick-off event held at George M. Hampton Middle School.
PWCS, in partnership with SPARK, the education foundation for the School Division, hosted the event. Families from Hampton Middle were invited, as well as families from the feeder elementary schools. Families had the opportunity to meet staff and families from the various schools in attendance and meet Superintendent of Schools Dr. LaTanya D. McDade.
Attendees enjoyed food from various food trucks, and music provided by PWCS Teacher of the Year turned DJ, Todd Robbins. Families also received free grocery kits from the Northern Virginia Food Rescue – Combating Hunger on Wheels (C.H.O.W.) Wagon and school supply packs donated by Staples. Information on resources were available from Anthem, INOVA Partnership for Healthier Communities, Kaiser, Prince William Public Libraries, PWCS Energy and Sustainability, as well as PWCS Human Resources Department. Other sponsors included AWS InCommunities, Children's Science Center Lab, Micron Technology, Inc., Prince William County Fire and Rescue, Sentara, Virginia American Water, Washington Capitals, and Wegmans.