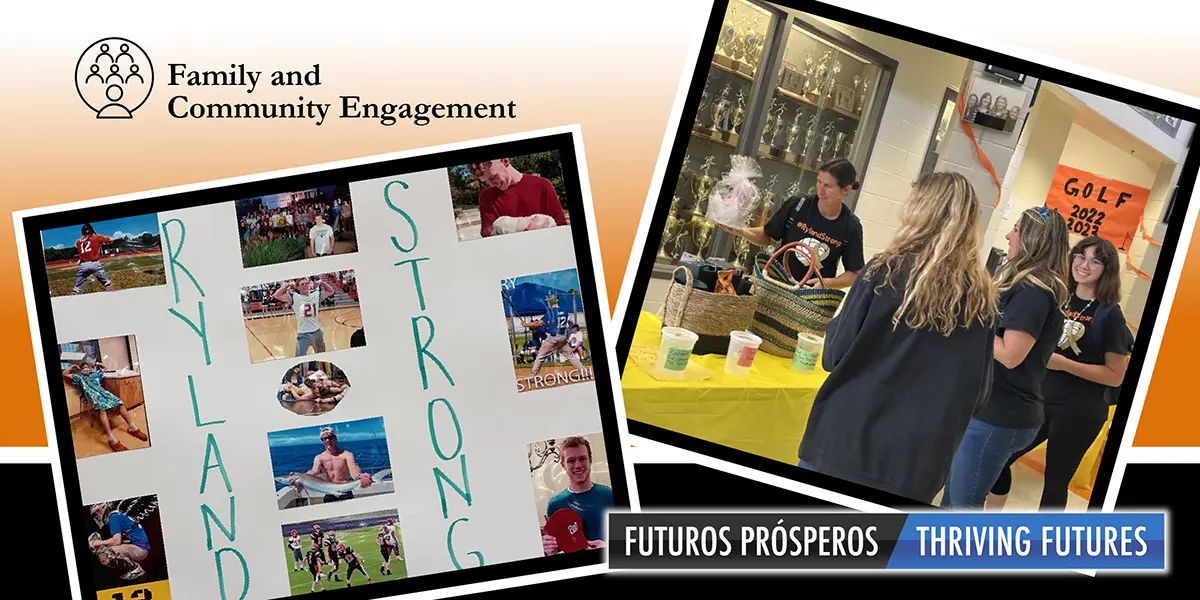 All day and afternoon, Brentsville District High School students and varsity volleyball players have been darting back and forth between halls, annexes, and the school gym posting signs, placing tables, and organizing donations in preparation for the evening's fundraiser for the Ryland Strong Foundation. Directing the flurry of tigers is Amy Beard, Brentsville District High horticulture teacher, Future Farmers of America advisor, and varsity volleyball coach.
Ryland Harris, a former Brentsville student, lost his battle to cancer last year. The Ryland Strong Foundation, founded by Ryland Harris during his fight, supports children and families who are battling childhood cancer.
"I had Ryland as a freshman. He was in the first horticulture class I ever taught," Beard shares with a reminiscing smile. "Ryland was just one of those kids where he was just super sweet; always smiling." Beard pauses looking at the mural. "I mean, his smile would light up a room."
Beard described Ryland as a helpful student who was "always asking if he could help, or what could he do." Of Ryland, she recalls, "It didn't matter what kind of day he was having, he wanted to know how your day was. That's just the kind of kid that he was. All the time and it was genuine. He was a great kid."
This was the second year the volleyball team will hold the Ryland Strong volleyball fundraiser. "With Ryland resonating with so many of our students, we decided to take up this call in honor of Ryland," shared Melanie Beard, a senior at Brentsville.
"It's amazing to see how much heart the Tiger community has and how they will rally behind somebody in need. Especially Ryland. There are so many things people have done for him, when he was here. Even since then, they have supported the foundation they had started in his name. It's important and I hope it continues because he was a very special young man." In the tenor of Beard's voice is the inspiration and pride Ryland gave to the community as his legacy.
"He inspired a whole lot of people with just his everyday demeanor of wanting to help everyone else. And that has inspired a lot of people in our community and a lot of our kids to do the same."
From the pouring in donations, participants, and attendance, Ryland's spirit stays strong even on the one-year anniversary of his passing.
The fundraiser held at the school raised over $2,600 in the fight against childhood cancer. All proceeds will go to the Ryland Strong Foundation.