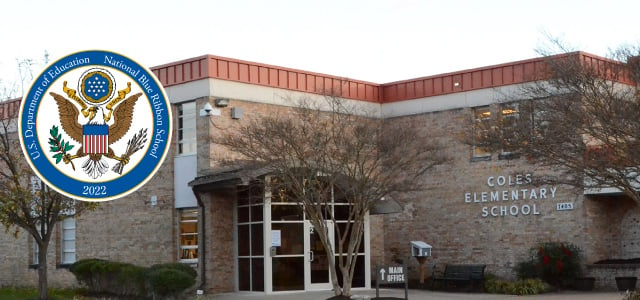 The U.S. Department of Education has named Coles Elementary School a 2022 National Blue Ribbon School. Coles Elementary is one of only 297 schools across the nation, and one of seven in Virginia, to be awarded the Blue Ribbon designation. Coles was recognized in the Blue Ribbon Program category, Exemplary Achievement Gap-Closing Schools.
The National Blue Ribbon Program recognizes public and private elementary, middle, and high schools based on their overall academic excellence or their progress in closing achievement gaps among students.
U.S. Secretary of Education Miguel Cardona announced this year's Blue Ribbon Schools, commending the honorees for "creating vibrant, welcoming, and affirming school communities where students can learn, grow, reach their potential, and achieve their dreams."
Kathryn Forgas, principal of Coles shared, "Coles Elementary is honored to have been nominated by the Virginia Department of Education and named a National Blue Ribbon School by the United States Department of Education. We are ecstatic and proud of our hard-working and dedicated team in facilitating, building, and sustaining a culture of high expectations and achievement for student learning, development of student agency, and fostering global citizens through reflective practices positively impacting the learning environment and the community at large."
According to the Coles Elementary School National Blue Ribbon Profile, Coles is a welcoming, inclusive community, serving a diverse student population and community. At Coles Elementary, "we are a community of environmentally minded thinkers where learning is achieved, real-world problems are explored, and success is celebrated. The school is a U.S.  Department of Education Green Ribbon School, multi-year Virginia Naturally Award Winner, a certified Monarch Waystation, and a certified Wildlife Habitat.
The National Blue Ribbon School award affirms and validates the hard work of students, educators, families, and communities in striving for – and attaining – exemplary achievement. The Program has bestowed approximately 10,000 awards to more than 9,000 schools, according to a news release.