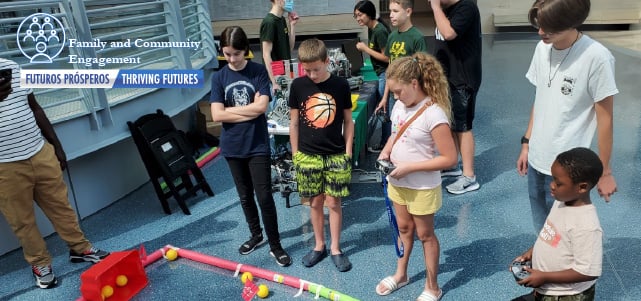 The National Museum of the Marine Corps (NMMC) recently hosted a community outreach event, Family Day: Robotics, centered on the exploration of robotic engineering and to discover how the Marine Corp Explosive Ordnance Disposal (EOD) robots function. In connection to science, technology, engineering, and math (STEM) education, NMMC invited the robotics teams from Fred Lynn and Lake Ridge Middle Schools and Gar-Field and Woodbridge High Schools to showcase their engineering skills and robotic education.
Young children and students were given the opportunity to operate one of the many robots and speak with Marine Corps robotic experts. Carlos Castro, head coach of the Woodbridge High Robotics team, reflected with a smile, "For three hours, PWCS represented robotics and all it can do to inspire children."
Children, as young as elementary age, were able to participate in hands-on activities with driving and playing with some of the robots.
"We had 419 visitors that attended the event," commented David Fair, education specialist at the National Museum of the Marine Corps. "The [PWCS] students were very engaged with the visitors as they came by the table to view the robots."
As part of this event, robotics students are afforded the chance to learn from experiences with the Office of Naval Research and sophisticated mechatronics like the Boston Dynamics' robot dog.
Genesis Carrillo, senior at Gar-Field High, said that taking part in events like the one at NMMC is "beneficial for all involved."  
"Since joining the robotics team, I feel that I am continuously learning and trying out new things. As a person, I'm growing into someone who I've always dreamed of being," she shared. 
While circuits and wires were making connections, Castro noticed the power of his students' community connections, "One of our mantras and side goals is to do STEM outreach to show young kids and families how accessible technology is now and how fun this can be."
Speaking of his own students, Castro added with pride, "[Students] really come out of their shells because they're just helping a younger version of themselves."
PWCS students bring circuit boards, building metal, and the robots they built throughout the prior years for competitions that the community get an opportunity to drive and play with. Next year, students will bring new robots they have built for this year's competition, which will play disc golf.