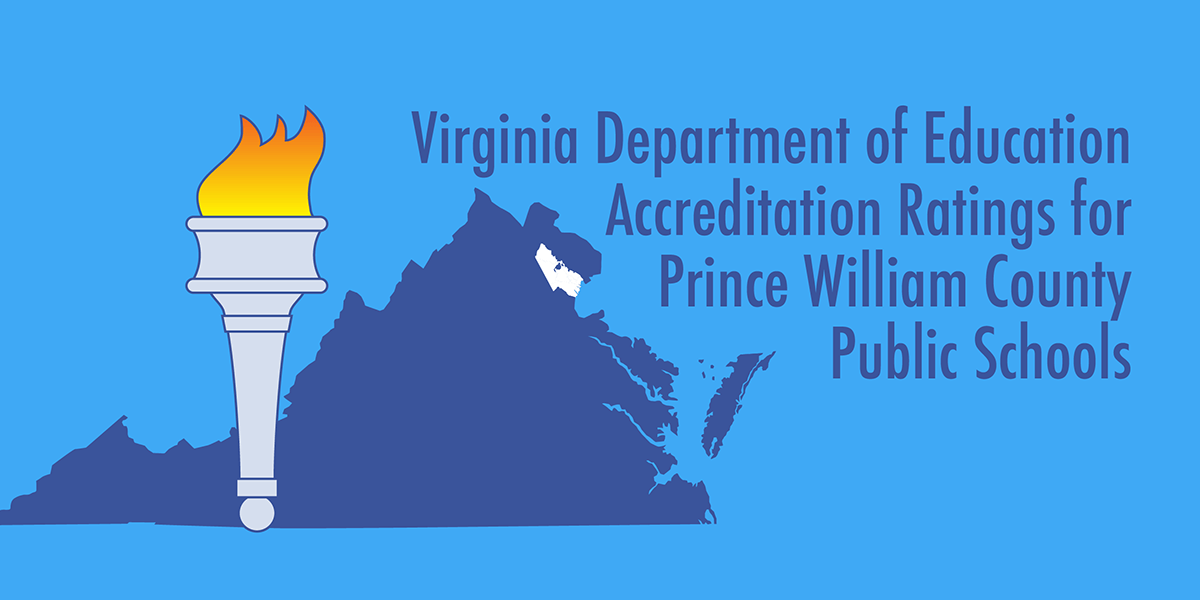 The Virginia Department of Education (VDOE) released accreditation ratings on September 22 for the 2021-22 academic school year. Virginia public schools receive an accreditation rating each year based on their performance on multiple school quality indicators, which include the academic proficiency and growth of students in English and math, the academic proficiency of students in science, closing achievement gaps among student groups in English and math, and student attendance. In addition, high schools are also rated based on graduation, dropout rate, and beginning next school year, the college and career readiness of students.
During the 2022-23 school year, seven schools will receive a rating of accredited with conditions: Ellis Elementary School, Jenkins Elementary School, Neabsco Elementary School, Potomac Shores Middle School, Unity Braxton Middle School, Hampton Middle School, Fred Lynn Middle School. All other PWCS schools were rated as accredited.
Schools can achieve academic benchmarks for each indicator by using their current performance, their pooled three-year average, or by showing significant improvement over the prior year. Based on their performance, schools are awarded a designation of accredited, accredited with conditions, or accreditation denied.
The last time the VDOE provided their school accreditation rating was 2018-19 with all PWCS schools fully accredited. The 2019-20 and 2020-21 school years were waived by the State Superintendent of Public Instruction.
This report echoes the needs addressed in our Strategic Plan for the academic achievement for all students by prioritizing the Instructional Core. While a portion of the Strategic Plan responds to the recovery needs of our students through its Unfinished Learning Plan, the Strategic Plan provides the blueprint for inclusive and equitable academic achievement for the future of all PWCS students.
To support academic excellence for all, students will be taught at, and elevated to, the levels both expected of and equal to their capabilities. Students with diverse learning needs will encounter new creative academic formats and supportive networks. Students will have expanded access to challenging options to prepare them for life after high school. Students at all levels will benefit from intensive and motivating tutoring, extended learning opportunities, social-emotional supports, and family involvement initiatives that will enhance each student's feeling of social/emotional well-being and positive academic outlook.
The Division plans to initiate meaningful and quantifiable change in the approach to training staff and supporting students at all levels. Teachers will be empowered with improved technology, centralized Division support, and a curriculum platform built on unified curricula tracking and learning materials, improved standardized grading and attendance tracking, and professional skill enhancement offerings.
It is our vision that every student will graduate on time with the knowledge, skills, and habits of mind necessary to create a thriving future for themselves and their community.