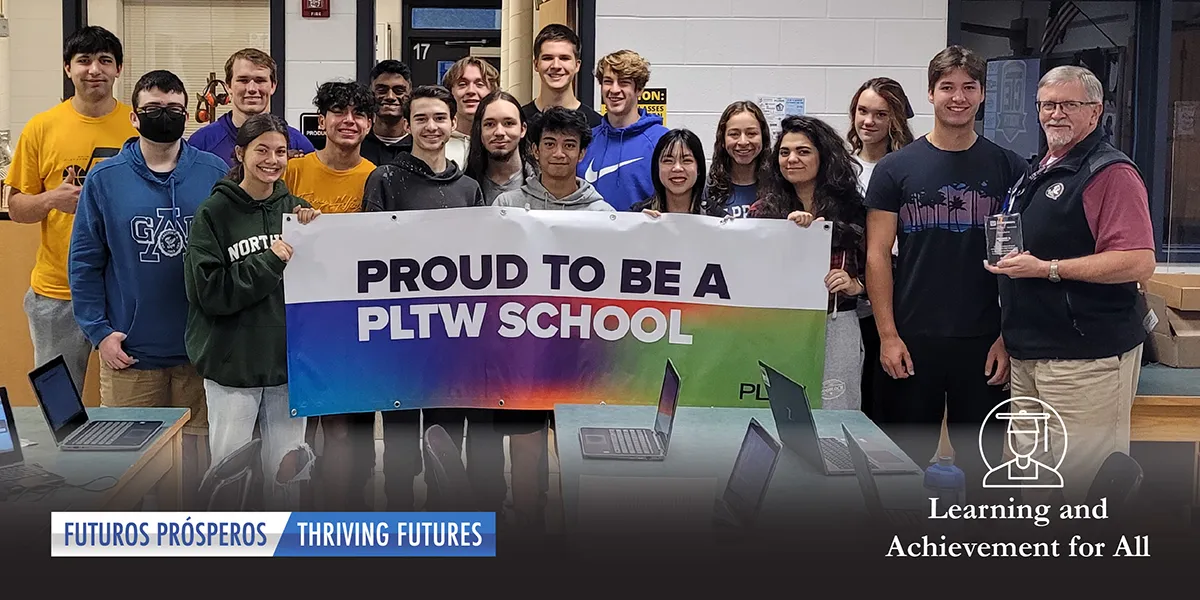 Congratulations to George Bishop, technology education teacher at Battlefield High School. Project Lead The Way, Inc. (PLTW) has named him an Engineering Outstanding Teacher of the Year. Bishop is one of only 16 educators selected nationwide for the PLTW Outstanding Engineering Teachers award. The award honors teachers for their work and commitment to unlocking the potential of their students.  Bishop was nominated by a former student, now attending Old Dominion University, who is also the first freshman ever to enter the school's Technology Engineering Education Teacher Preparation Program.
"PWCS excels at providing students with opportunities to participate in multiple avenues to achieve success," said Bishop. "The PLTW program is, in my opinion, essential for students to identify and address situations in their lives to learn how to meet those situations head on and then work on solving their problems. Our PLTW Engineering Program prepares students for higher education, the immediate workforce, and military service, and not just in engineering fields but also those of business, medicine, and law. We work on our durable skills – personal and business etiquette, effective writing, and public speaking so that the students are better prepared to meet challenges outside of school."
The PLTW program at Battlefield High has grown from an initial introductory course offering to five courses. Surveying is one of the activities in Bishop's civil engineering and architecture classes. With both theoretical and practical application components, Bishop's students engage in discussions about their homes, buildings where they work, and consider different types of terrain. They explore how foundations are laid, how land is prepared for construction, and the role of the surveyor. Then, teams of students, each with a specific role, take survey equipment outside to assess various elevations around the school grounds.  
"This year we will utilize an engineering firm's professional surveyors to assist with the class; Nasir Ayoub, our PWCS workforce development coordinator, has further developed business and industry relationships for us that give the students an even more involved surveying experience," said Bishop. "The outcome is to introduce students to various aspects of civil engineering and construction and then have them engage in the actual exercises that encompass surveying. Once again, the basic tenet of Career and Technical Education has been achieved: Learning by Doing!"
Bishop is PLTW-certified to instruct courses in engineering, digital electronics, civil engineering architecture, and engineering design and development. He holds a master's degree from George Mason University, a bachelor's from the University of Holy Cross, and endorsements in administration and supervision, preK-12; technology education; electronics; and social studies and history. In 2020, Bishop received the Virginia Technology and Engineering Education Association's High School Teacher of the Year award.