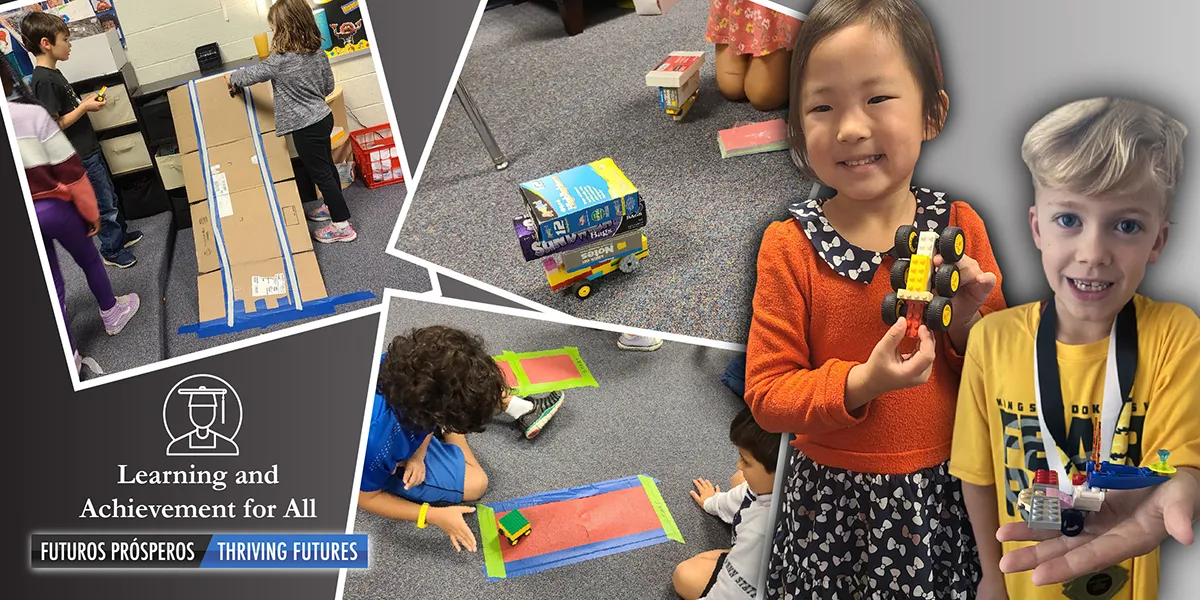 Imagine what paper plates, cups, balloons, and straws have in common with a Mars rover in space. One would think not much, but for students at T. Clay Wood Elementary School, it has a lot in common after a livestream lesson with Dr. Anne Weiss, NASA science, technology, engineering, and math (STEM) engagement and educator professional development collaborative (EPDC) specialist. Weiss taught fourth grade students about research being conducted on Mars. Students created and tested their own Mars rovers using common materials and focused on how they could safely travel and "land."
Adam Dove, drama teacher, coordinated and promoted the schoolwide observance of the inaugural World Space Week at T. Clay Wood Elementary. Throughout the school, teachers were encouraged to incorporate space into their lessons. For his class, Dove implemented a lesson focused on space rovers on the moon. Students used Legos to build the rovers. They designed and built an obstacle course creating cardboard ramps, sandpaper ground, and bumps on the ground made from crayons. In addition, bags of cargo made from crayons, index cards, and Legos were added to the rover, and students conducted crash tests by pushing the rovers off the stairs. After the experiments, students made modifications to improve the durability of their rovers.
Through a lesson with the Steven F. Udvar-Hazy Center, third grade students used specific colors to draw patterns onto strips of paper that are fed into Ozobots, small pocket-sized robots. The Ozobots operate on color-coding and read the pattern from the paper and follow commands of where to move and what path to take. Students were taught how robots in space are programmed with software that tells them where to move, allowing scientists to conduct research in space from afar.
Fifth grade students had the opportunity to view a livestream session with Virgin Galactic. Virgin Galactic shared with students about commercial space travel. Students asked questions about their chance of flying into space themselves. In addition, Steven Smith, NASA STEM education specialist from the Johnson Space Center in Texas, livestreamed to the entire school and told students about upcoming space launches. Several classrooms were able to join in and had the opportunity to ask Smith questions.
"There were several reasons why I think it is important for students to learn about space. When we think about leading thriving futures, [both] space exploration and support will be an area of potential careers. It also encourages a focus on STEM education. I believe it ignites our students' excitement, imagination, and curiosity. It also indirectly reminds us to take care of our world and helps us understand our own planet. Learning from astronauts and scientists is such a great experience for our students, shared Principal Andrew Buchheit.
Dove encouraged other schools to adopt a schoolwide Space Week, sharing, "There are so many ways to engage students! We had a space poster contest, space spirit days, space-integrated classroom activities, and a few classes even redecorated for the week! It is an exciting subject and if we show the excitement to the students, they will see it and take it to the next level."