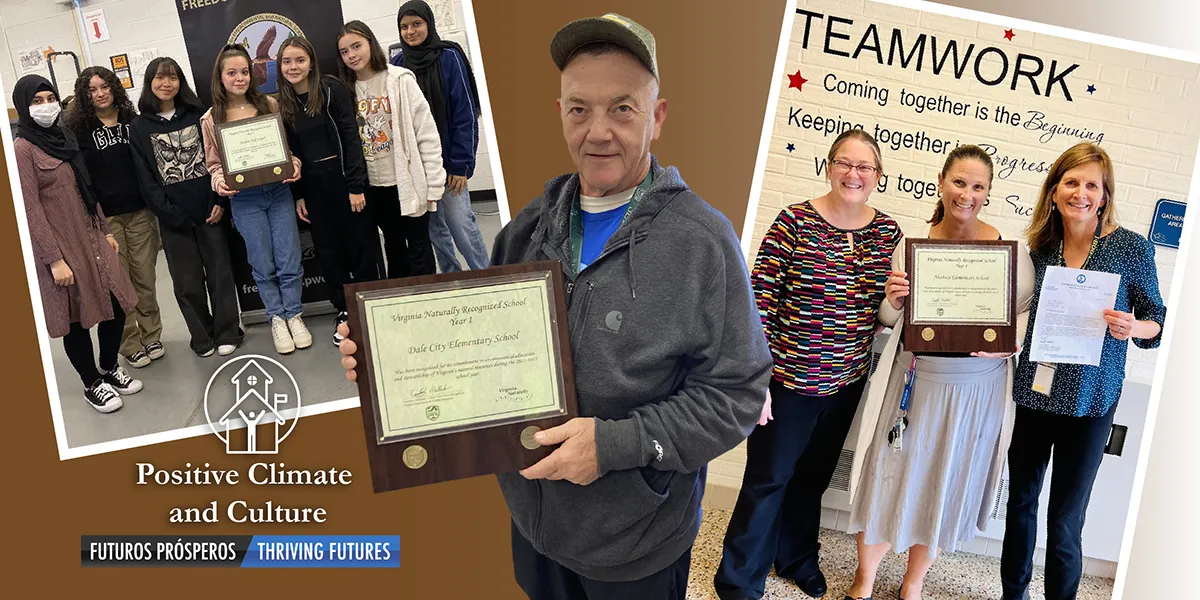 The Virginia Department of Wildlife Resources (DWR) named eight Prince William County Public Schools (PWCS) as Virginia Naturally Schools This is the Commonwealth's official environmental education school recognition program. These schools were eight of 35 across the Commonwealth to receive the recognition.
Battlefield High School
Coles Elementary School
Dale City Elementary School
Freedom High School
Kilby Elementary School
Mullen Elementary School
Neabsco Elementary School
Piney Branch Elementary School
This is Coles Elementary's ninth year of recognition.
"It's great for [DWR] to be recognizing schools that are making these efforts because we do want the students to be environmental stewards. We want them to understand the positive impact that they can have," said Kathryn Forgas, principal of Coles. "We've met and worked with some helpful people, and we are very proud to be recognized."
Schools must apply each year for consideration, and after the first year, the school must meet additional requirements. As ninth year applicants, Coles staff needed to detail their school's growth in relation to previous years as well as show how their program met the Chesapeake Bay Watershed Agreement's goal of students across the Commonwealth having at least one meaningful watershed educational experience.
"This award shows evidence of the commitment and achievement of schools that have schoolwide activities and programs to increase environmental literacy and stewardship in students," said Jeanne Jabara, coordinator of energy education in PWCS.
The Virginia Naturally Schools recognition is also a gateway to potential national recognition by the U.S. Department of Education as a Green Ribbon School.