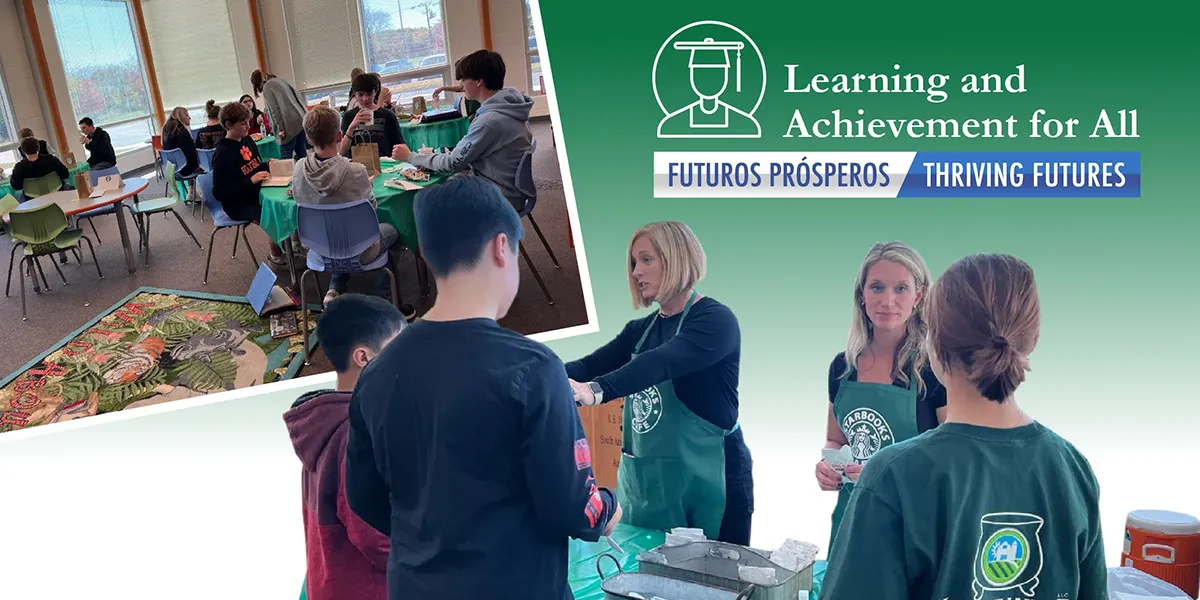 The ambient sounds of excited whispers and flipped pages mixed with the twisting aroma of hot cocoa. The sense-filled tapestry wove an atmosphere of warmth and cozy sophistication.
The Starbooks Literacy Café at The Nokesville School was open for business to their middle level students. Language arts classes met in the library for hot chocolate, light snacks, and lively conversations about the books they are currently reading.
"It was nice that we were talking about books, but at the same time having fun," shared Ryan Pao, an eighth-grade student.
As a K-8 school, Nokesville librarian, Tanya Parrott, and her collaborative learning team—Rebecca Frischkorn, reading specialist, Stacy Mulgrew, gifted teacher, and Amy Qualls, instructional technology coach—are always looking for ways to engage students from nine different grade levels.
"We have some literacy themed activities that are already in place for our younger students," said Parrott. "So, we were looking for something a little more middle level focus. And we thought it would be cool to give them a kind of...a different setting with a relaxed atmosphere."
After coordinating with teachers, the end of the quarter was selected as the perfect time for enrichment, reward, and for students to discuss their books using the literacy terms and skills they had learned over the past nine weeks.
Seventh grader Samantha Wilson reflects, "I definitely like the experience. It was good to socialize with other people and share the different kinds of books we read."
With books in hand, students filed into the library. They picked up a small snack and cocoa, donated by parents, before finding an open table with an icebreaker game called "Bring Your Own Book." "It's like the board game "Apples to Apples," but this one has literary related questions," explains Parrott.
"It's been a really good day," comments sixth grader Rodney Hampton. "This is probably the most fun I've had in a while. I really like this Starbooks activity."
Parrott sees Starbooks as a fantastic way to support language arts teachers who use literature circles or book clubs. Having a special day in the library for book discussions is also a zero-pressure approach to introducing students to the library space where that special title, colorful cover, or quiet space may pique their interest.
"It's been wonderful! The kids have really enjoyed it," observes Parrot. "It has been so much fun and I think the kids have really enjoyed it!"
Anthony Mayer, sixth grader, shares this sentiment, "We should do this again."