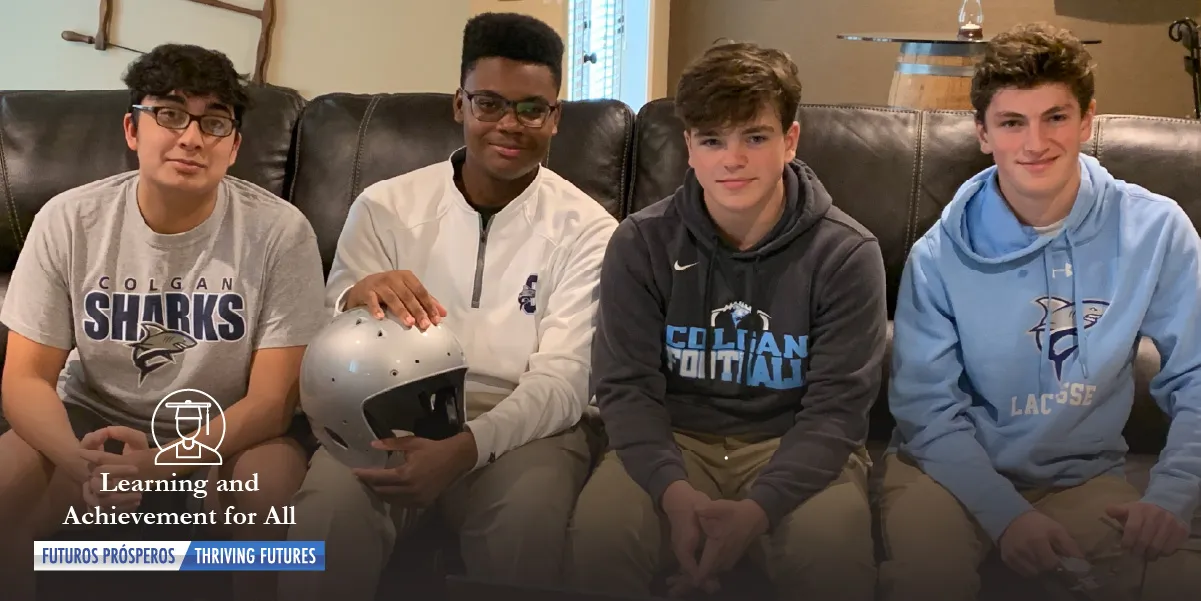 The United States Patent and Trademark Office awarded a patent to Charles J. Colgan Sr. High School seniors Tony Bright, Hamza Lateef, and Gabriel Ralston, and 2022 graduate Solomon Ralston, for an app they designed. The team of inventors created Concussion Recovery in Youth Optimized using a Comprehensive App-based Program (CRYOCAPTM). The students also attend The Governor's School @ Innovation Park.
The team drew inspiration from an older sibling of Gabriel and Solomon Ralston, who sustained a concussion injury while wrestling.
Lateef explained, "We observed that existing solutions mostly consist of rehabilitation strategies and supportive measures during recovery, and the ones that can be used in the field do not have the technological support to assess and respond to the athletes using established health care guidelines. We sought to design an effective intervention for concussion at the time of injury as well as an app-based monitoring system which can contribute to subsequent health care assessments, personalize therapy, and promote physical, psychological, and cognitive recovery."
"The CRYOCAPTM consists of two integrated technologies, a cooling helmet and mobile app, which can be deployed as soon as a concussion occurs. Our helmet is uniquely engineered to deliver selective cerebral hypothermia, or brain cooling, to limit the extent of brain injury and improve long term cognitive outcomes," added Lateef.
The application also provides subsequent care after the incident by prompting the student athlete to complete a self-assessment for a period of two weeks. The information can then be downloaded and shared with a health care provider.
The students said their teacher at The Governor's School @ Innovation Park Dr. Imed Ben Chouikha, cultivated and nurtured their learning curiosity and scientific pursuits.
Ralston spoke about how Dr. Chouikha's classes and mentorship helped them achieve their goals for academic excellence.
 "Dr. Chouikha is an awesome mentor. In his Innovations class we began brainstorming for the project. He made sure each team followed the scientific process and encouraged creative problem-solving while at the same time making sure we were [thorough] with our documentation. He was always available for input and spent so much time helping us think through several prototypes, [and] he was able to inspire our team to challenge ourselves, which really helped us succeed in our research process."
Bright shared the following advice for his peers pursuing careers in science, technology, engineering, and math, "...[B]e curious, continue researching, persevere, and pursue your interests. CRYOCAPTM was developed to fill a need in the diagnosis, treatment, and monitoring of head injuries that have serious effects on [an] athlete's health. We are proud to say that we are innovators, and we hope to inspire others."