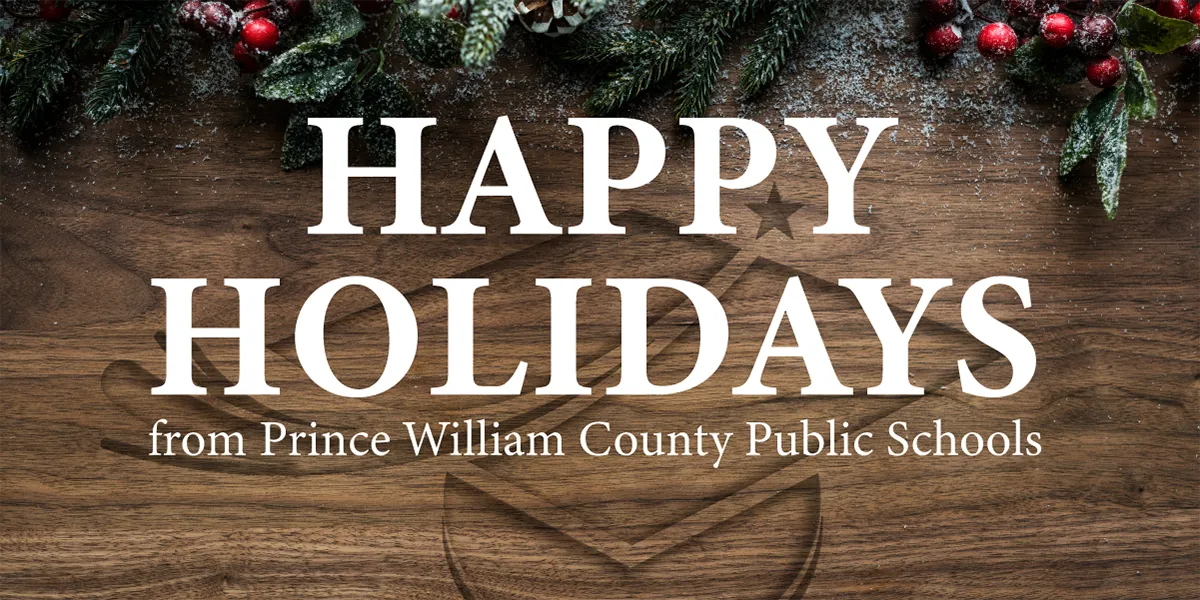 Dear PWCS Families, Employees, and Community,
Congratulations to the Freedom High School football team on winning the Virginia High School League Class 6 State Championship. As the final whistle blew on the victory over James Madison High School, our triumphant Eagles solidified an undefeated season and brought home the coveted state championship trophy. We are so proud of our student-athletes for their grit, determination, and fortitude that led to this amazing accomplishment. Go Eagles!
And speaking of outstanding accomplishments -- for 20 years, the A-Street Bruins at Forest Park High School have put on a spectacular performance of "The Polar Express." I had the joy and privilege of watching this outstanding show that embodied the collaborative spirit of our Strategic Plan's Commitment 1: Learning and Achieving for All.
While the winter holidays and end-of-year celebrations are a time of reflection, resolution, and rejoicing, I want to acknowledge those community members and business partners who give back in the spirit of Commitment 3: Family and Community Engagement. On behalf of Dawn Davis, executive director of our SPARK education foundation, and the entire SPARK team, I would like to thank the following PWCS partners:
Fraternal Order of Police Battlefield Lodge #43 for providing students with opportunities to participate in Santa Cop;
Volunteer Prince William for supporting students and their families during the holidays through "Un-Trim-A-Tree" and "Holiday Helpers";
Northern Virginia Family Services for supporting students and families throughout the year;
All PWCS business and community partners that support our community all year round by donating, gifting, supplying, and collaborating with us;
And, our school staff, parents, and students who donate clothes, food, school supplies, toys, books, games, and make contributions to our schools' food pantries and clothes closets.
Additionally, I wish to extend a special thank you to the Old Dominion Chapter of the Links, Inc., the Xi Alpha Lambda Chapter of Alpha Phi Alpha Fraternity, Inc., and the Pi Lambda Lambda Chapter of Omega Psi Phi Fraternity, Inc., for their surprise generous donations to nine elementary schools supporting the organizations' Food Insecurity Initiative.
Thank you to all who give to those in need, especially during the winter and holiday months. If you are looking for a way to support your local community, I encourage you to donate to the SPARK's End-of-Year Giving Campaign.
When you support SPARK's End-of-Year Giving Campaign, you are supporting Prince William County Public Schools with Food Assistance support through partnership with Northern Virginia Food Rescue, Arts Access & Equity by supporting fieldtrips and art experiences through partnership with the Hylton Performing Arts Center, and resources for students with special needs, such as aids and equipment needed for testing.
As I conclude my final letter of the calendar year, I would like to wish everyone a happy holiday season. I encourage you to take this winter break to relax, recharge, and spend time with loved ones and friends. I look forward to continuing our work together in the new year and the endless possibilities for an even brighter future for all PWCS students.
Sincerely,

LaTanya D. McDade, Ed.D.
Superintendent
Prince William County Public Schools