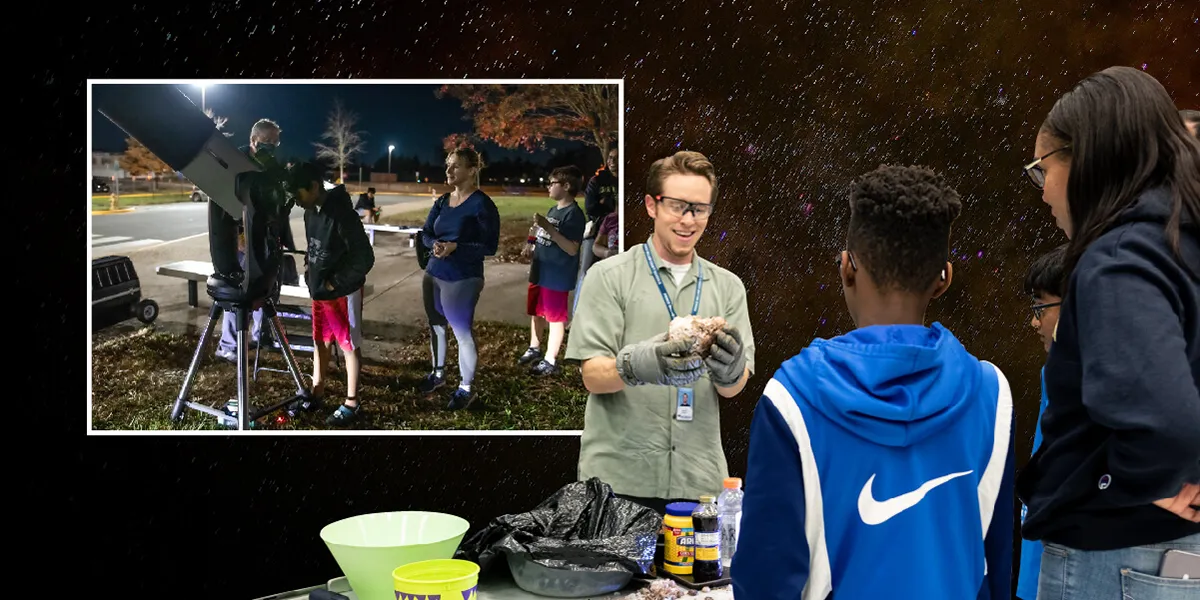 A collaboration of local scientists, astronomy clubs, and school faculty brought the wonders of space and physics to students and parents alike during Astronomy Night at Marsteller Middle School.
Attendees were treated to live scientific demonstrations performed by staff members and local scientists, including the mixing of two types of beads with isopropyl alcohol and saltwater to witness how beads react differently because of their density. Another included showing the physical properties of a comet and how temperature, atmosphere, and speed create the streaking tail we are sometimes lucky enough to see here on Earth.
 "I really liked the experiments we got to do and the dry ice comet demonstration," said two Marsteller students.
"The goal for our Astronomy Night was to further encourage a love of science in our Math and Science Specialty Program students by hosting a hands-on event for their families. We had volunteers from the Northern Virginia Astronomy Club bring telescopes. Several Marsteller teachers hosted learning stations," said Kerry Adkins, gifted resource teacher and math/science specialty program coordinator.
Students and their families discussed the heavens with Pamela Lewis, a NASA Solar System Ambassador, one of more than 1,100 volunteers across the nation who share the excitement of NASA's space exploration missions and discoveries with the people in their communities. Nearby, aspiring artists could use their imagination to draw space-related art. Parents could photograph their child's work and submit the design to be displayed on the NASA website.
And what would an astronomy night be without a moon rock? Using a handheld scanning tool, students could project images of actual moon rock, sealed in acrylic, onto a computer screen. The examples could be examined up close on the screen and cross referenced using printed documentation about each.
"It was wonderful to see many members of our school community coming out to enjoy the wonders and fun of science," said Kelly Anthony, science department chair.
For many, the highlight of the night came on the front lawn of the school. Powerful telescopes, skillfully directed at the west-southwest horizon, provided a crystal-clear look at Venus, Saturn, Jupiter, and the moons that orbit it. Members of the Northern Virginia Astronomy Club answered questions and explained details about the planets and their alignment in the night sky.
Survey responses from parents about the night are a testament to the event's success.
"We had fun as a whole family," said one parent.
"It was amazing to look through the different telescopes. My children were excited to see the rings of Saturn as well as four of Jupiter's moons," replied another.
"It was a wonderful hands-on experience," wrote another.