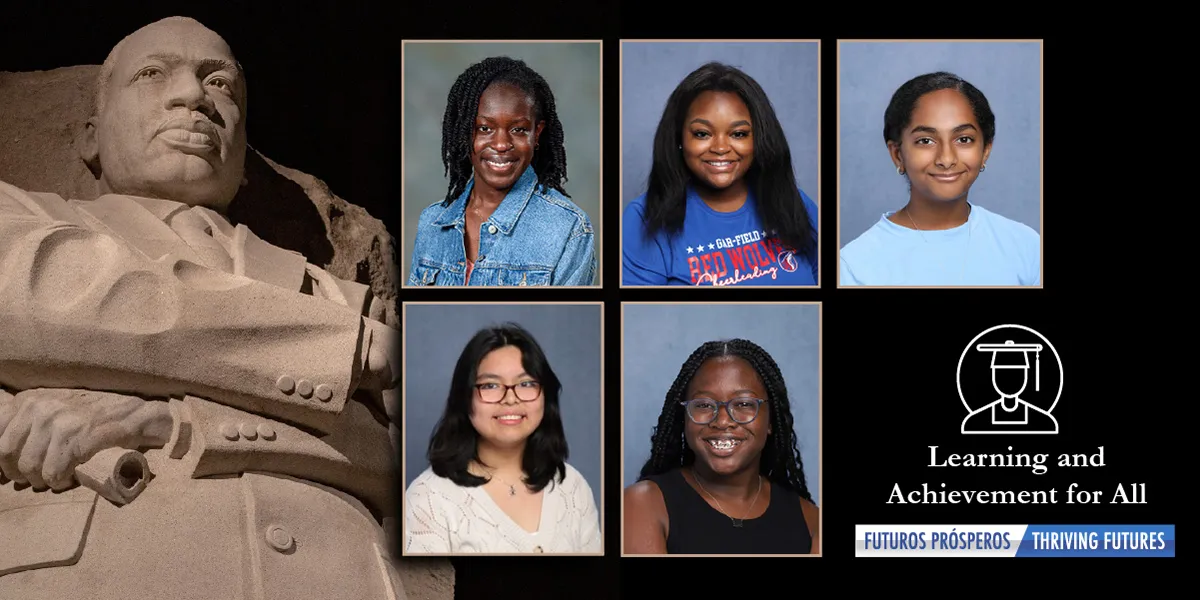 Five Prince William County Public School (PWCS) students were among six finalists selected to present at the 33rd annual Martin Luther King Jr. (MLK) Oratorical Competition and Program on January 16, 2023. This event is held each year in honor of Dr. Martin Luther King Jr. on the MLK Day holiday by the Prince William County Alumnae Chapter of Delta Sigma Theta Sorority, Inc. (PWCAC-DST). The speeches are one component of the celebration, now in its 38th year, that will be broadcast as a free virtual event on the chapter's YouTube Channel, PWCAC DST YouTube Channel (PWCAC-DST-MEDIA), at 11 a.m. on Monday, January 16.
The public is invited to sign in and watch the program, which also includes performances by the 2023 Martin Luther King Jr. Community Choir, made up of area K-12 students. While the event will be offered virtually, student performances are recorded in person, when possible.
Students in grades 6-12 competed in the oratorical competition and were asked to first write and then present an oration in celebration of the life and accomplishments of Dr. King, based on this year's theme, "A View of the Promised Land."  
Congratulations to the following five PWCS student finalists:
Shavonne Davis, ninth grade, Patriot High School
Alyssa M. Godfrey, eighth grade, Benton Middle School
Sakshi Gowda, eighth grade, Ronald Wilson Reagan Middle School
Kaomi Ninasaume, seventh grade, Gainesville Middle School
Brooklynn Saunders, 11th grade, Gar-Field High School
The following awards will be announced during the program: Best Before the Judges, Judges' Choice, Best Before the Audience (selected from by text-to-vote from the YouTube viewing audience), and Award Ceremony Student Speaker. The awards will be presented at an in-person awards ceremony scheduled to be held at Gainesville High School at 7 p.m. on Sunday, January 29.
PWCAC-DST, in affiliation with the Delta Research and Educational Foundation, hosts this year's 38th Dr. Martin Luther King Celebration and the 33rd annual Youth Oratorical Competition. The competition encourages the development of public speaking skills of youth in grades 6-12, and celebrates and sustains Martin Luther King's spirit of optimism, public service, racial harmony, and human rights through the voices of youth.
Visit the PWCAC DST website to learn more about the program.