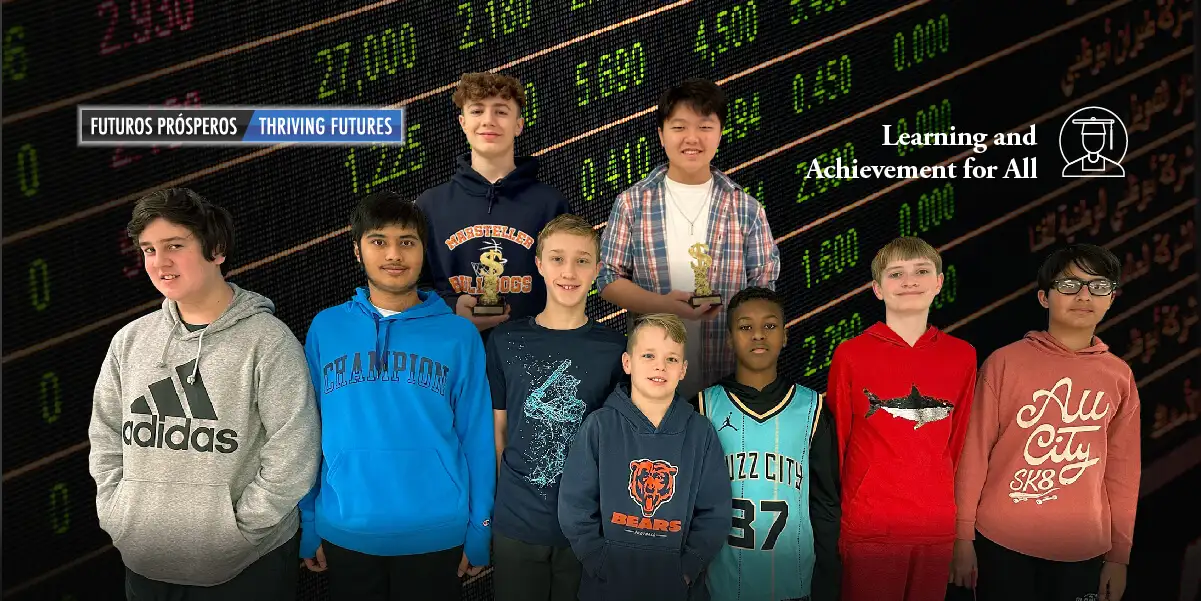 Students from Bull Run Middle School took first and second place in the George Mason University (GMU) NOVA Regional Stock Market Game. Team Multicolor, made up of eighth graders, Aidan Emmett, Ali Hakki, Sajid Parvez, and Zaym Tashfeen, placed first among nearly 100 teams competing in the region. Nolan Campbell, Vincent Dudley, Dylan Luik, and Tyler Tovar, all seventh graders on Team Crimson, earned second place.
Cameron Kim and Radu Sandulescu, eighth grade students at Marsteller Middle School, won first place among their middle school peers, and second place overall in the University of Mary Washington regional competition.
The Stock Market Game™ is sponsored statewide by the Virginia Council on Economic Education and locally by GMU and the University of Mary Washington. Student teams are given $100,000 to invest in a simulation of the Stock Market over a three-month period. The goal is to create a balance portfolio of stocks, bonds, and mutual funds, and increase the value of an on-line portfolio through real-time buying and selling stocks on the NYSE and NASDAQ.
The activity is voluntary, and teams work independently after-school hours researching, making predictions for company stocks of their choice, and increasing the value of their portfolio.
Jenny Brown, gifted resource and school testing coordinator at Bull Run Middle, helped her students prepare by sharing instructional video clips and stock research strategies.
Brown shared, "Once the game started, it was pretty hands off for me. I sent them rankings updates and kept them motivated, but this was the students doing the work."
Sajid Parvez, an eighth grader on Bull Run's winning Team Multicolor, shared that his team had a strong hunch that investing in Nvidia, a leading manufacturer of Graphic Processing Units (GPU), would be the best way to go in the competition.
"We chose it because Nvidia had recently released the 40 series of its GPUs at the time, and we believed that due to previous stock trends in the company's history, the stock price would significantly go up in the next couple months, shared Parvez. "As it turns out, we have increased our total equity by approximately 6% within 3 months."
Even with some challenges, Cameron Kim and Radu Sandulescu, the winning pair at Marsteller, increased their equity by 4% over the three-month period.
"One of the biggest obstacles we had to overcome was only being able to meet with the club once a week. Other restrictions included not being able to short the market, bet all our money on one stock, and trading on a delayed platform. Finding ways to overcome these obstacles made our success that much more memorable. Furthermore, the thrill of competing for the top spot and having to make split-second decisions at the last minute was definitely an emotional roller coaster for us," explained Kim.
Marsteller's club co-sponsors, Dr. Kerry Adkins, gifted resource teacher and math/science specialty program coordinator, and Jenise Birks, business teacher, contributed to their students' success by helping them gain valuable knowledge about what to watch for in the market in order to make successful investments.
Birks is very proud of her students and the outcome for the Marsteller teams who competed. "We out invested high schools and even college teams! In addition, we had seven teams in the regional top 20," she shared.