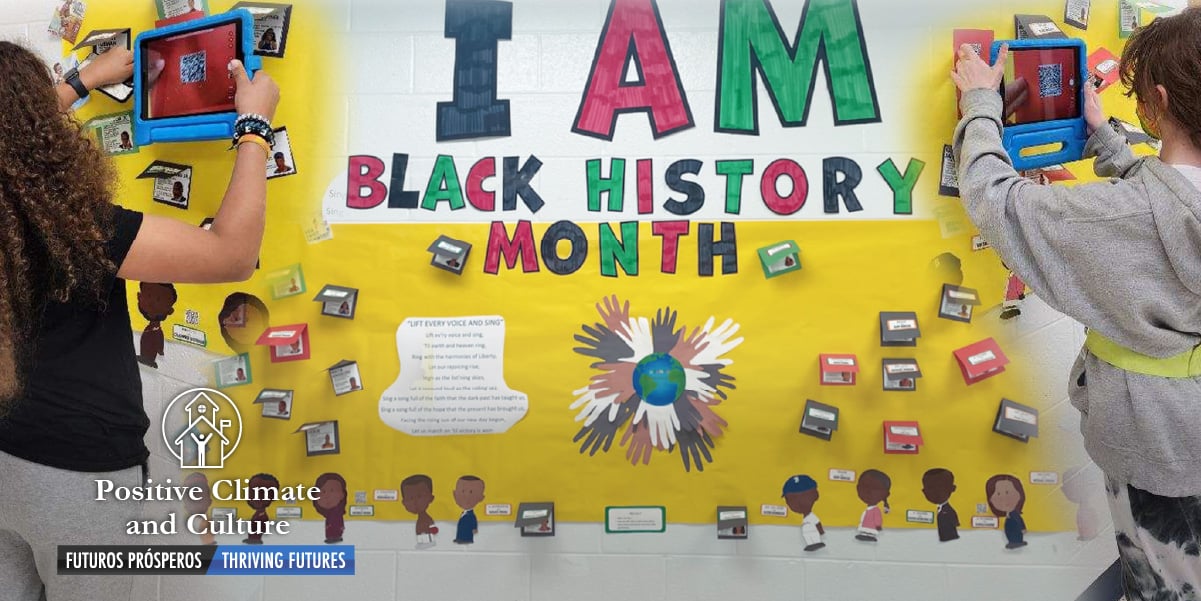 Names and images of influential Black Americans are on display in Antietam Elementary School's halls teaching young learners about the many and varied contributions made by these important figures in celebration of February as Black History Month. Through the collaborative efforts of Karla Cygan, kindergarten teacher, Pauline Khureshi, ESOL teacher, and Ashli Sims, reading specialist, handcrafted cutouts and cards circle a colorful, interactive bulletin board where students and staff can learn about those who have blazed courageous trails in their field or, in some cases, changed the course of our nation's history.
On display are nearly 30 individuals, including such famous historic figures as Dr. Martin Luther King Jr., Malcolm X, Rosa Parks, Harriet Tubman, and Thurgood Marshall, as well as more recent figures who have influenced the fields of literature, civil rights, sports, and politics, including Barack and Michelle Obama, Maya Angelou, Misty Copeland, Issa Rae, and Michael Jordan.
"We wanted to share the contributions of prominent African Americans to our country in an innovative way," said Sims. "We chose these individuals to include some men and women that students were already familiar with, as well as shine a light on those who've dedicated their life's work to a great cause but are no longer living. Additionally, we wanted to cover a variety of career paths so students could see a reflection of themselves on this board with something that they connect with. This could be used to reinforce literacy skills, such as identifying the main idea and supporting details, locating nonfiction text features, comparing and contrasting, and developing research skills."
Integrating technology and visual components with these skills increases engagement by inviting students to pause as they pass the board and examine the display to discover  new facts about a known favorite figure or meet and learn about someone new. Some of the names and faces are accompanied by a characteristic word or phrase about that person, while others appear on tent cards which, when opened, provide additional facts, a quote for which that person is known, and a QR code. When scanned on the student's device, the code leads students to a video they can watch to gain additional insight into that individual's life.
"Black History Month is a part of my cultural identity, along with many other students and faculty [at Antietam Elementary]," shared Sims. "I believe this project speaks to Prince William County's core value of innovation. By integrating technology with key literacy skills, I feel that this interactive bulletin board will reach a wider range of students and it will highly engage them."