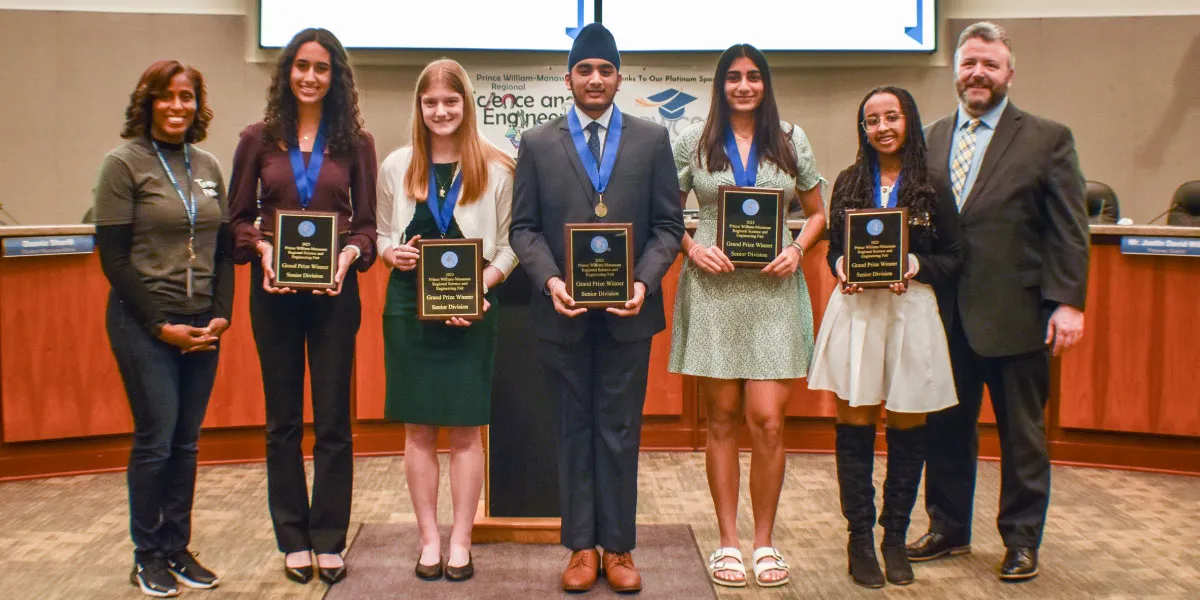 Dear PWCS Families, Employees, and Community,
This past weekend, I had the distinct honor of attending the Prince William-Manassas Regional Science and Engineering Fair, where our middle division (grades six through eight) and our senior division (grades nine through twelve) shined. From the middle division, 10 first place winners have qualified to compete in the national Thermo Fisher Scientific Junior Innovators Challenge. From the senior division, 12 first place winners and 11 second place winners will advance to compete in the Virginia State Science and Engineering Fair.
We are so proud of the five grand prize winners who were selected among the first-place winners of the senior division to represent PWCS and Virginia at the International Science and Engineer Fair, where they will compete against over 1,800 high school students from around the world. The honor highlights the importance of our division's STEM programs. These programs teach transferable skills and lifelong practical application, while developing important characteristics—critical thinking, innovation, resilience—like those defined in our PWCS Profile of a Graduate.
As we are now in the last week of the third quarter, I encourage all families to check-in with your student's academic progress and well-being. Great resources to help monitor student progress and assignments include ParentVUE and Canvas. If your student needs academic support, reach out to your child's teacher or school counselor, as we are committed to helping every student succeed.
To ensure student success and for our schools to provide academic support, our entire community must remain committed to our students' daily attendance in the weeks surrounding Spring Break. Our data shows a concerning 12%-14% drop in attendance before major holiday breaks. School days leading into extended breaks are significant for submission of major assignments, retakes and reassessments, opportunities for enrichment, and student-to-staff connections. We must honor class time for our students.
On Wednesday, March 29, I invite you to join us for our second virtual community input session on the naming of "Rosemount Lewis" Elementary School held from 7-9 p.m. If you are unable to attend, please submit your name suggestion in writing by completing the name suggestion form by 12 p.m. on Tuesday, May 2.
We continue to welcome feedback on the prospect of utilizing the preventative security screeners demonstrated at our recent Safety and Security Briefings. March 31 is the final date to submit your comments or questions on our official form. More information about security scanners may be found on our website. The division will review the feedback and present the findings and recommendations to the School Board in April.
Our School Board is seeking two student representatives for the 2023-24 school year. Student representatives serve a crucial role in amplifying the voices and perspectives of our student body. Interested candidates may find more information at our School Board Representative Application Process website and will need to complete a School Board Representative Application by Sunday, April 2.
Have a safe and enjoyable weekend and thank you for your continued partnership.
Sincerely,



LaTanya D. McDade, Ed.D.
Superintendent
Prince William County Public Schools