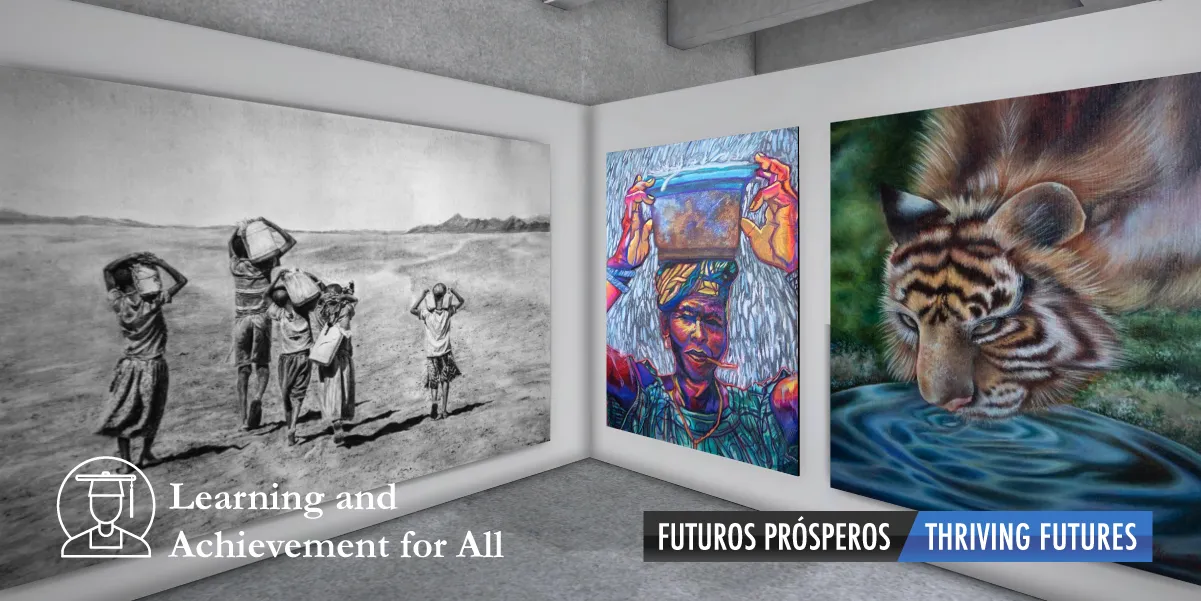 Denise Kamgaing, a Charles J. Colgan Sr. High School student, took the grand prize at the 2023 Water Art Invitational and other PWCS student artists received top honors at the 2023 Prince William County Service Authority (PWCSA) Water Art Invitational. PWCSA, the local water and wastewater utility service, designed this art competition more than 20 years ago to encourage, recognize, and reward talented young artists in Prince William County (PWC) and to raise awareness about the value of water as an indispensable natural resource.
Students in grades 9-12 in PWC are eligible to enter. Participants were asked to visually depict this year's theme, "Every Drop Counts," using painting/drawing, computer graphics, or photography and were permitted to submit up to one piece per category for a total of three submissions.
Take a virtual walk through this online Water Art Invitational 2023 Winners Gallery to view the artwork of our talented student artists.
Congratulations to our winners:
Grand Prize:
Denise Kamgaing, Charles J. Colgan Sr. High School
Photography:
First place: Mackenzie Talbert, Forest Park High School
Second place: Kelem Abreham, Forest Park High School
Third place: Mya Aure, Forest Park High School
Computer Graphics:
First place: Emily Hummel, Forest Park High School
Second place: Kathryn Quintiliano, Charles J. Colgan Sr. High School
Third place: Emily O'Leary, Gainesville High School
Painting & Drawing:
First place: Adeline Bishop, Charles J. Colgan Sr. High School
Second place: Daryl Price II, Charles J. Colgan Sr. High School
Third place: Gabriela Molina Otaiza, Charles J. Colgan Sr. High School
General Manager's Awards:
Angeline Villagran, Osbourn Park High School
Anna Reid, Patriot High School
Avrie Mosley, Forest Park High School
Calista Drummond, Patriot High School
Carter Logsdon-Lowe, Gainesville High School
David Hess, Battlefield High School
Dayana Palacios, C. D. Hylton High School
Erik Henriquez, Osbourn Park High School
Hiba Chaaibi, Potomac High School
Jordan Spencer, Battlefield High School
Joshua Herer, Woodbridge High School
Karina Achico, Charles J. Colgan Sr. High School
Kimberly Avilos, Charles J. Colgan Sr. High School
Margaret Neall, Forest Park High School
Maria Salinas, C. D. Hylton High School
Tavian Anderson, Woodbridge High School
Marisa Bah, Charles J. Colgan Sr. High School
Neve Kelly, Woodbridge High School
Paula Ramirez-Castillo, Forest Park High School
Samia Abdi, Patriot High School
ZiYi Wang, Gainesville High School