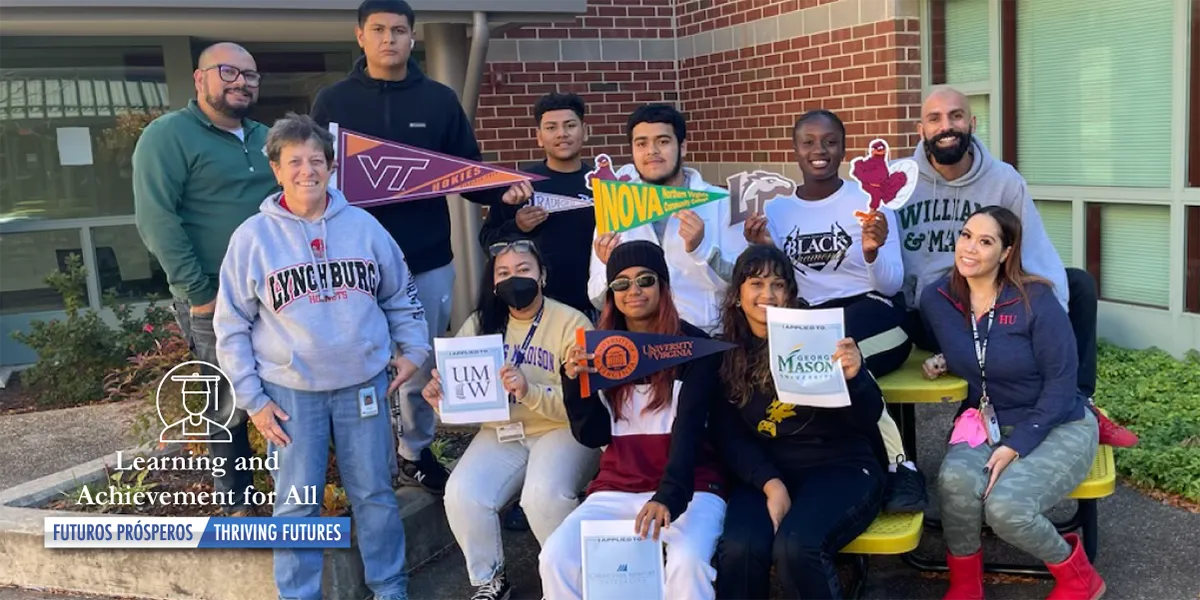 Freedom High School is among only 23 high schools selected by American College Application Campaign (ACAC) to receive the School of Excellence Award for its efforts to assist high school seniors as they navigate the college application and the admission process. The award is presented to schools that support efforts to increase the number of high school seniors, including those who are systemically underserved, in applying to college. The recognition stems from the celebration of the school's Virginia College Application Week (VCAW) program, held on October 25-28, 2022, where students engaged in college and career-related activities. The goal of VCAW events is to remove barriers that help students see higher education as attainable and to prevent obstacles that may hinder them from applying to college.
"Applying to college can be a daunting task for many students, especially those who face barriers. VCAW provides students with the confidence to apply, knowing that they are not doing this alone," said Angela Jenkins, college and career counselor at Freedom High School. "Prior to the start of VCAW, we hold a two-week boot camp series and I, along with teachers and counselors, volunteer to help seniors with applications, read essays, and explain questions that may seem confusing, so that they are ready. I am humbled that our students trust us enough to take this journey with them."
As part of the college and career-related activities held that week, the class of 2023 seniors participated in scavenger hunts, trivia, and raffles, and a college spirit day, where students and staff were invited to wear their favorite college gear. Each day's activities comprised a different theme, and students were assisted in completing college applications in the library after school and applied to Northern Virginia Community College through their English 12 classes. Freedom High students submitted 483 college applications to over 41 different institutions of higher education.
"Virginia College Application Week was an amazing opportunity for seniors, especially for those of us who come from an immigrant family with many obstacles to overcome," said Andrea Portillo, a senior at Freedom. "The college application fee waivers were a gift for those who are not financially stable enough to apply to more than a few colleges. Aside from the monetary benefits, the support that our teachers and counselors at Freedom High School invests in preparing us for the event was a blessing."
View the American College Application Campaign School of Excellence Award news release.
---
La Escuela Secundaria Freedom recibe el premio a la excelencia por parte de la American College Application Campaign (campaña estadounidense de solicitud de ingreso a la Universidad)
La escuela Freedom es una de las 23 escuelas secundarias seleccionadas por la American College Application Campaign (ACAC, por sus siglas en inglés) para recibir el premio a la Escuela de Excelencia por sus esfuerzos para ayudar a los estudiantes de último año de secundaria a navegar la solicitud de ingreso a la universidad y el proceso de admisión. El premio se concede a las escuelas que apoyan los esfuerzos por aumentar el número de estudiantes de último curso de secundaria, incluyendo a los que carecen de los servicios apropiados, a la hora de solicitar la admisión a la universidad. El reconocimiento tiene su origen en la celebración del programa escolar Semana de Solicitudes Universitarias de Virginia (VCAW, por sus siglas en inglés), celebrado del 25 al 28 de octubre del 2022, en el que los estudiantes participaron en actividades relacionadas con la universidad y las carreras profesionales. El objetivo de los eventos VCAW es eliminar las barreras que ayudan a los estudiantes a que consideren la educación superior como algo alcanzable y prevenir los obstáculos que pueden impedirles solicitar la admisión a la universidad.
"Presentar la solicitud a la universidad puede ser una labor desalentadora para muchos estudiantes, especialmente para aquellos que se enfrentan algún tipo de obstáculo. VCAW ofrece a los estudiantes la confianza para aplicar, sabiendo que no lo están haciendo solos", dijo Angela Jenkins, consejera universitaria y profesional en la Escuela Secundaria Freedom. "Antes del comienzo de la campaña VCAW, organizamos una serie de campamentos de capacitación de dos semanas y yo, junto con los profesores y consejeros, nos ofrecemos como voluntarios para ayudar a los estudiantes de último año con las solicitudes, leer sus ensayos y aclarar las preguntas que puedan parecer confusas, para que estén preparados. Me siento muy honrada de que nuestros estudiantes confíen en nosotros para emprender este viaje con ellos".
Como parte de las actividades relacionadas con la universidad y la carrera profesional que se celebraron esa semana, los estudiantes de último curso de la promoción 2023 participaron en juegos de búsqueda del tesoro, concursos y sorteos, y un día de celebración del ambiente universitario, en el que se invitó a los estudiantes y al personal a vestirse con la ropa de su universidad favorita. Las actividades de cada día abarcaron un tema diferente, y se ayudó a los estudiantes a llenar las solicitudes universitarias en la biblioteca después de la escuela y a presentar solicitudes de ingreso al Northern Virginia Community College (NOVA, por sus siglas en inglés) a través de sus clases de inglés del grado 12. Los estudiantes de la escuela Freedom presentaron 483 solicitudes universitarias a más de 41 instituciones diferentes de educación superior.
"La Semana de Solicitudes Universitarias de Virginia fue una oportunidad increíble para los estudiantes de último año, especialmente para los que venimos de una familia de inmigrantes con muchos obstáculos que superar", dijo Andrea Portillo, estudiante de último año de Freedom. "Las ayudas para la solicitud de admisión a la universidad fueron un regalo para aquellos que no tienen la estabilidad económica suficiente para solicitar el ingreso en más de unas cuantas universidades". Aparte de los beneficios económicos, el apoyo que nuestros profesores y consejeros de la Escuela Secundaria Freedom invirtieron en prepararnos para el evento fue una bendición."
Lean el comunicado de prensa del Premio a la Excelencia de la Escuela de la American College Application Campaign.