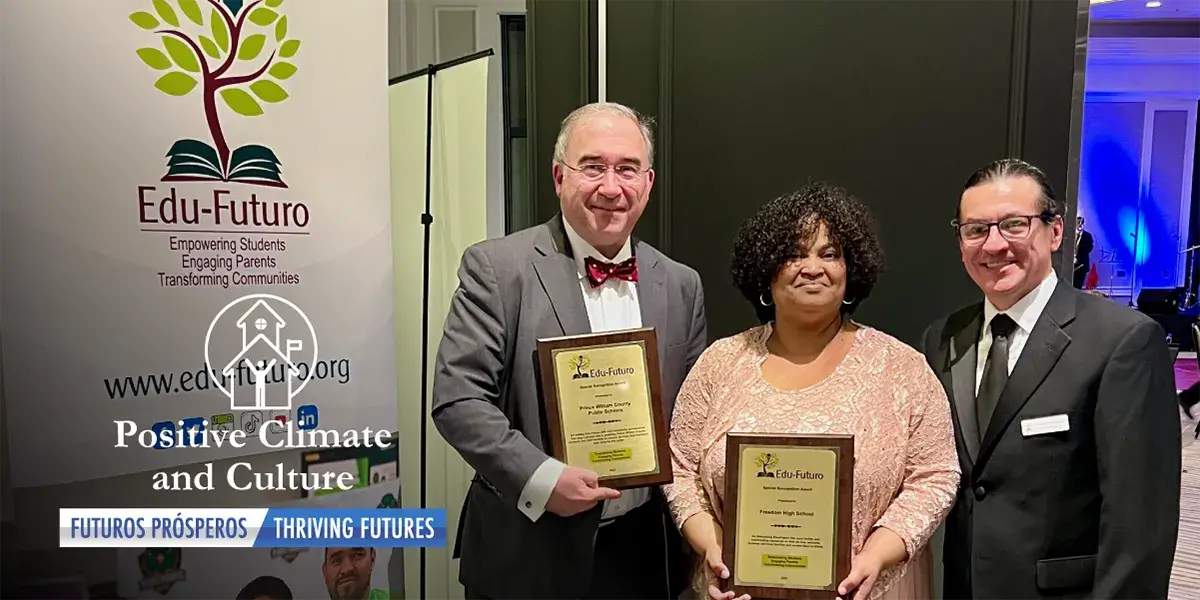 The nonprofit organization Edu-Futuro presented special recognition awards to two Prince William County Public Schools (PWCS) leaders, William Bixby and Chevelli Smith, at its Back to the Futuro! Gala held recently in Falls Church. The event was a celebratory reception and program highlighting Edu-Futuro's programming and partnerships. Bixby, the school division's associate superintendent for high schools, and Smith, principal of Freedom High School in Woodbridge, were presented awards in recognition of a partnership with Edu-Futuro that brings services and resources to PWCS students.
Through a formal partnership, established in December 2022, Edu-Futuro brings staff onsite at Freedom High School to expand the support and resources provided to PWCS high school students and families. Some of the resources currently in place for students include college and career readiness and a senior mentor program. For parents and families, help includes training in the use of various technology and devices and computer fundamentals, managing and understanding student-related software and data, personal job search assistance, and financial support.
"Edu-Futuro supports families and encourages kids to come to school by helping with financial assistance and connecting them to other groups that can support them," said Smith. "Edu-Futuro is also working with students weekly to help them determine what they will do after they graduate. They help with financial aid, filling out the FAFSA, and even give students summer jobs to help them out financially. Edu-Futuro staff members attend our community events to help and offer information. In addition, they provide English classes to our parents and help with certifications, so that they can get better paying jobs, which will allow them to have one job and, therefore, more time at home with their families."
The Edu-Futuro organization has a research-based two-generational approach that ensures immigrant youth and families attain postsecondary goals, improve long-term financial stability, and strengthen interfamily cohesiveness. Edu-Futuro provides youth mentorship, education, and leadership development, as well as parent engagement services to schools in northern Virginia meant to empower immigrant and underserved youth and support their families in addressing issues that may hinder family stability and the successful adaptation to living in the United States.