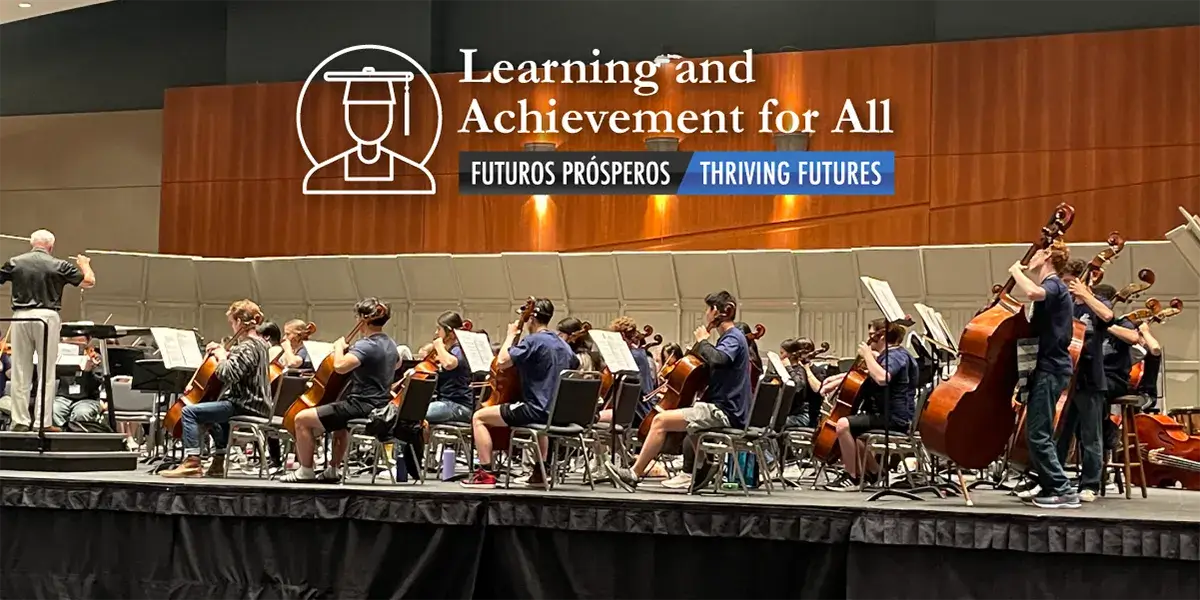 The Virginia Music Educators Association (VMEA) along with the Virginia Band and Orchestra Directors Association (VBODA), Virginia Choral Directors Association (VCDA), Virginia Elementary Music Educators Association (VEMEA), and the Virginia chapter of the American Choral Director's Association (VA-ACDA) recently hosted the All-Virginia Band, Orchestra and Choir events in Richmond, Virginia. More than 100 students from Prince William County Public Schools (PWCS) qualified for these ensembles: 45 high school students for the 2023 All-Virginia Band, Chorus, and Orchestra, 61 middle school students for the 2023 All-Virginia Middle School Honor Choir, and 11 elementary school students for the 2023 All-Virginia Elementary Chorus.
"Selection for an All-Virginia ensemble represents the highest honor that the Virginia Music Educators Association can give to a student and is an extraordinarily rare achievement," said Dr. Ed Stephenson, supervisor of the arts in PWCS. "It is a testament to the dedication of our music educators, hard work, and discipline of our students, and the unwavering support of our parents."
Students selected for these ensembles participated in a series of rehearsals, led by a guest conductor, and culminating in a public showcase. This event draws students, parents, and educators from across the Commonwealth together to celebrate music and the achievements of its students.
Congratulations to the PWCS high school students selected for the All-Virginia Choir.
C.D. Hylton High School: Hannah Ahmed, Dorian Lockamy, Abigail Mirambel, Ruth Nebiat
Charles J. Colgan Sr. High School: Kayla Basham, Robert Cioletti, Blaine Daniel, Alexander Dixon, Ryan Emkes, Alicia Foyes, Alyssa Kiffer, Caitlin Lohfield, Adam Mack, Raelle Melvin, Danielle Serrano, Evan Shields, Lucy Yannarell
Gainesville High School: Mara Cerven, Ollie Maxted
Osbourn Park High School: Ruth Osara, Brett Barton, Leland Boxer, Josefina Gaspar
Patriot High School: Grace Farris, Ahalya Kartik, Nick Mastropaolo, Diego Muro, Boden Pearson
Unity Reed High School: Selwyn Rio, Ainsley Sadler, RaJahnni Savary
Woodbridge High School: Chloe Sporysz
Congratulations to the PWCS high school students selected for the All-Virginia Band and Orchestra.
Battlefield High School: Rhett Schaer
Charles J. Colgan Sr. High School: Jack Choi, Abigail Gabalski, Aidan Johnson, Jaylinn Vanegas, Alexander Windmiller, Garrett Wood, Emily Yeh, Lily Zuraski
Gainesville High School: Yeju Kim, Noah Tipton
Patriot High School: John Ross
Woodbridge High School: Devin Hubbard
Congratulations to the PWCS middle school students selected for the All-Virginia Middle School Honor Choir.
Bull Run Middle School: Payton Addis, Jared Campbell, Victoria Fox, Gannon Maxwell, Jacob Percy
Fred M. Lynn Middle School: Rachael Grant, Brianna Lambouths, Zehava Shepard
Gainesville Middle School: Roderick Davis, Rachel Fillmore, Sanya Fouzi, Grace Hilton, Olivia May, Ysabella Nicastro, Ella Parnell, Brighton Petrocelli, Mara Remsen, Emily Rollins, Jaiden Velasquez-Timbers, Wyatt Yarbray
Lake Ridge Middle School: Amayah-Rae Dogan, Mya Dukes, Tierney Myers, Vivienne Valencia
Marsteller Middle School: Yaw Ampratwum-Peprah, Megan Bergeron, Anthony Bodner, Harry Dunick, David Jensen, Jake Jones, Hudson Lee, Juan Martinez, Cameron McGee, Felix Pantoja, Gabriella Rold, Vaughn Schweitzer, Keith Sprouse, Chase Trottman, Everett Weaver, Beckett Wesol
Parkside Middle School: Michael Ahn, Megan Berk, Claire Busenberg, Mykenna Cassity, Richard Chong, Brynn Colburn, Lillian Gregory, Chancelor Henry, Amos Kear, Jr., Violet Ma, Riley Patterson, Flavia Perrucci, Diego Ruiz, Colby Waters, Alija Zagorica
Pennington Traditional School: Kayleigh Lane
Potomac Middle School: Annaleigh Sajous
Rippon Middle School: Marx Adams, Afomia Asfaw, Elizabeth Quinones Ortiz
Ronald Wilson Reagan Middle School: Alexandria Martinez
Congratulations to the PWCS elementary students selected for the All-Virginia Elementary Chorus.
Bennett Elementary School: Christopher Farrell, Anwar Messaoudi-Moussi, Caitlin Park, Nathaniel Snyder, Lily Upchurch
Glenkirk Elementary School: Rumzy Abouelregal, Elise Johnson, Cecilia Jones, Marlee Ratcliff, Charlotte Taubken, Gabby Taubken