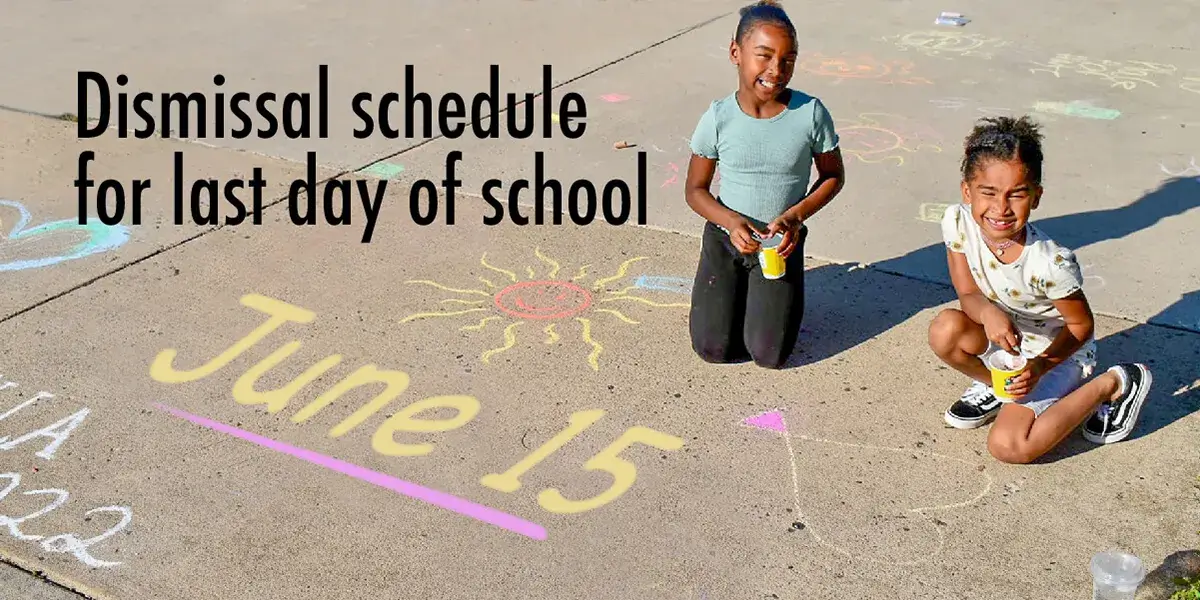 If there are no unexpected closures that impact the schedule for the remainder of this school year, the last day for the 2022-23 school year is scheduled to be Thursday, June 15, 2023.

The standard early dismissal plans for June 15 are as follows:

Middle and Elementary Schools:
Elementary and middle school students will be dismissed on a half-day schedule.
Lunch will be served in elementary and middle schools.
High Schools:
High school dismissal is set for 10 a.m.
Lunch will not be served in high schools.
PACE West students will follow the high school schedule.
There will be no preschool special education, Title I preschool, Head Start, or Virginia Preschool Initiative (VPI or VPI+) classes on June 15.
All School Age Child Care (SACC) programs will open at dismissal for those students enrolled in the program and will remain open until their normal 6:30 p.m. closing time.
The dismissal times for June 15, 2023, are posted on the Transportation webpage.
Please note that Tuesday, June 20, is an election day and 76 PWCS schools will be used as polling precincts.
---
PWCS anuncia el horario de salida para el último día de clases, el jueves, 15 de junio del 2023
Si no hay cierres inesperados que afecten el horario para el resto de este año escolar, el último día del año escolar 2022-23 está programado para el jueves, 15 de junio del 2023.
El plan de salida temprana para el día 15 de junio es el siguiente:
Escuelas intermedias y primarias:
Los estudiantes de las escuelas primaria e intermedia saldrán en el horario de medio día.
Se servirá el almuerzo en las escuelas primarias e intermedias.
Escuelas Secundarias:
El horario de salida de las escuelas secundarias es a las 10 a.m.
No se servirá almuerzo en las escuelas secundarias.
Los estudiantes de PACE West deberán seguir el horario de la escuela secundaria.
El día 15 de junio no habrá clases de educación especial preescolar, preescolar Título I, Head Start o de la Iniciativa Preescolar de Virginia (VPI o VPI+).
Todos los programas de Cuidado de Niños de Edad Escolar (SACC) abrirán a la hora de salida para los estudiantes inscritos en el programa y estarán abiertos hasta las 6:30 p.m., la hora normal de cierre.
Los horarios de salida para el 15 de junio del 2023 están publicados en el sitio web de Transporte.
Tenga en cuenta que el martes 20 de junio, es un día de elecciones y 76 escuelas en PWCS se utilizarán como recintos electorales.