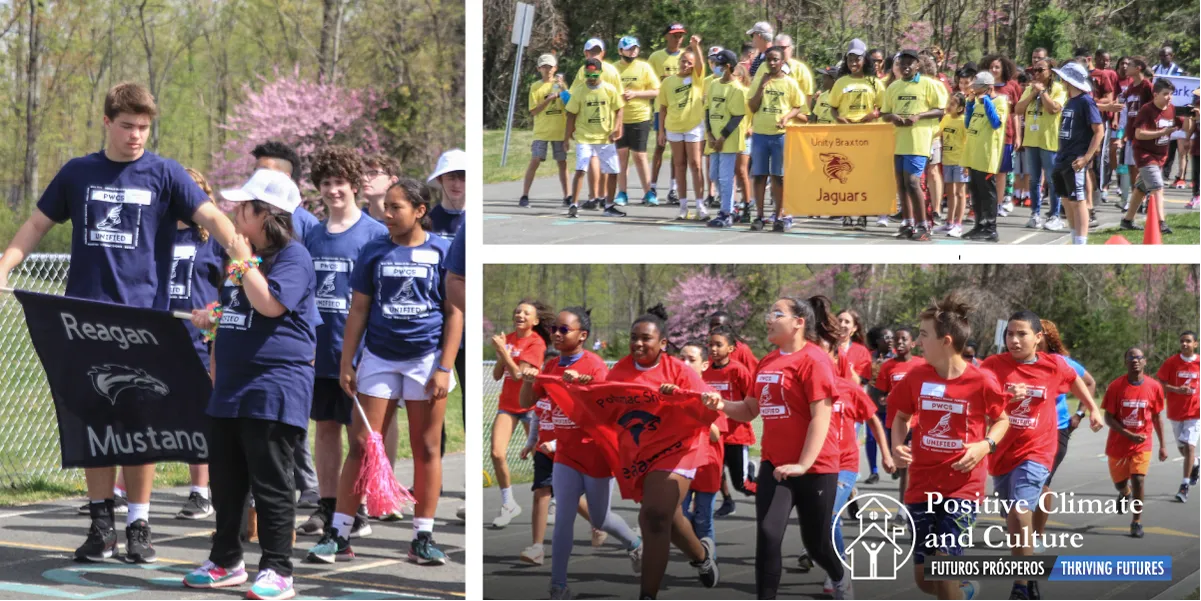 Sports are for everyone! May is Physical Fitness and Sports Month, and in PWCS, the Special Olympics Unified Sports program exemplifies how sports can bring students of all abilities together, promoting inclusion and physical fitness.
Throughout the school year, students with and without disabilities participate together in school-sponsored field-days and sports tournaments. Health and physical education teachers, administrators, and special education teachers from across the division work with students to prepare for various tournaments.
Ronald Wilson Reagan Middle School was the site for a recent Unified Sports track meet. Competitors included special education and general education students from Beville, Fred M. Lynn, Gainesville, Graham Park, Hampton, Parkside, Potomac Shores, Reagan, Saunders, and Unity Braxton Middle Schools. Events included the 100m, 200m, and 400m races, 50m hurdles, 4x100 relay as well as shot put, discus, and long jump.
The day was filled with teamwork, sportsmanship, and pure fun. "This is the best day ever!" declared William Bossman, a sixth grader at Reagan.
Abby Burns, an eighth-grade student at Reagan, played an integral role in planning the event. She arranged the behind-the-scenes work including interviewing general education students and working with students on event logistics.  
"This is about making sure that everyone plays a role in our school," shared Abby.
While the Unified Sports track meet allowed students with disabilities to really become stars for a day, Kathleen Hugh, assistant principal at Reagan, believes that general education students may be the ones who benefit the most.
"Watching the general education students grow and learn about our students with disabilities is a key step to a stronger understanding of inclusion," shared Hugh. "They are so excited, and seeing them dance, run, have fun with our students with disabilities and forgetting that anyone has or doesn't have a disability is the true mean of inclusion."
Unified Sports events like this track meet contribute to a positive climate and culture by fostering strong connections between students and a welcoming environment that is inclusive to all.