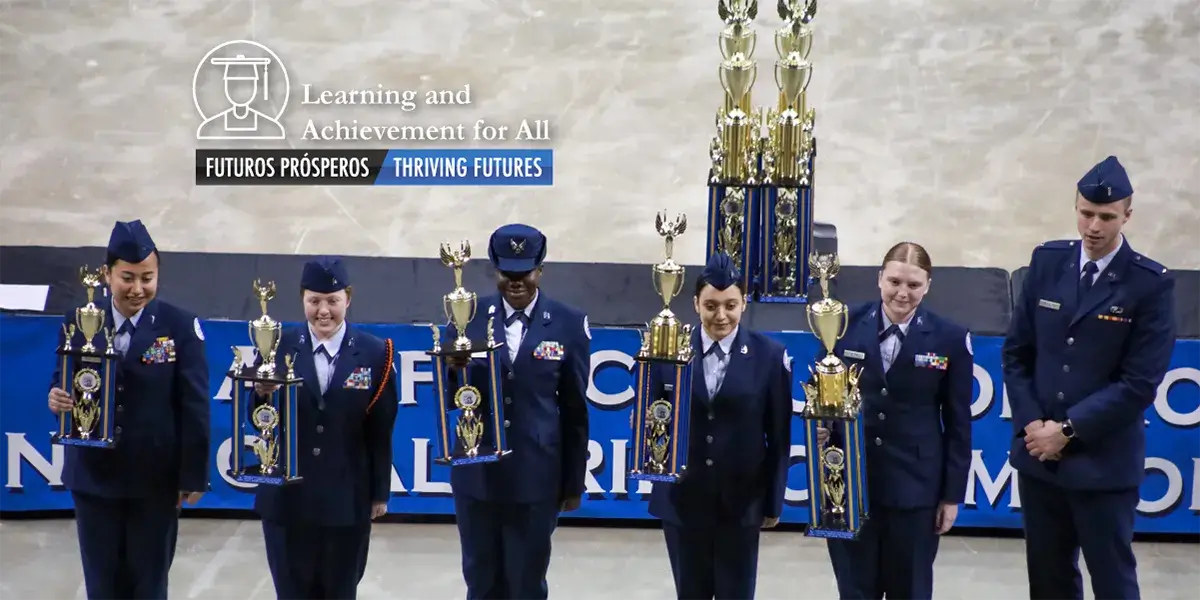 The U.S. Air Force Junior Reserve Officer Training Corps (AFJROTC) held its Open Drill Nationals championship competition in Dayton, Ohio, recently. Cadets from across the nation and some from across the globe arrived at the Wright University Nutter Center Arena to demonstrate their expertise and precision under pressure as more than 850 units performed in various drill competitions.
Congratulations to the 33 cadets in the Unity Reed High School AFJROTC (Unit VA-20065) program who took the eight-hour journey to compete in the Unarmed Division.
Out of the 865 units competing, the unit earned fourth place overall and brought home the following additional awards:
First place: Unarmed Inspection (Commanded by Serenity Fraser, 11th grade)
First place: Unarmed Exhibition Duet (Serenity Fraser and Phuc Nguyen, 11th and 10th grade, respectively)
Second place: Unarmed Exhibition Duet (Alejandra Lobos and Hashly Paredes, 11th and 12th grade, respectively)
Fourth place: Unarmed Exhibition Duet (Kate Laing and Ashley Corado-Rivas, both in 12th grade)
Fifth place: Unarmed Exhibition Team (Commanded by: Ashley Corado-Rivas, 12th grade)
"The drill team program is much more than marching in a square, creating a beat, or spinning a rifle," said TSgt. Tina M. Laing, aerospace science instructor at Unity Reed High. "Our motto is 'Quitting Isn't an Option.' This year the cadets learned the value of dedication, teamwork, and perseverance while challenging themselves to set realistic goals and if you work hard, you can achieve anything you set your mind to. One Team, One Fight!"
Laing and Lt. Col. Darryl J. Robinson, senior aerospace science instructor, coordinated the trip and prepared the students, who began practicing in May 2022 for this competition after winning the 2022 Air Force Association (AFA) Virginia State Drill Competition. The team raised $12,000 to fund the trip.
Additionally, the team competed in the 2023 AFA Virginia State Drill competition and won first place again this year. Although they are repeat Virginia State champions, this time they broke the state record, winning the highest score a team has ever earned, 120 points out of 120, and taking all first-place trophies in every event. The unit's next goal is to attend Open Drill Nationals again in 2024 and compete in both the Unarmed and Armed division events.
---
La unidad JROTC de la Fuerza Aérea de la Escuela Secundaria Unity Reed premiada en el Campeonato Nacional de Ejercicios Abiertos JROTC de la Fuerza Aérea 2023
El Cuerpo de Entrenamiento de Oficiales de Reserva de las Fuerzas Aéreas de los Estados Unidos (AFJROTC) celebró recientemente su campeonato nacional de ejercicios abiertos en Dayton, Ohio. Varios cadetes de todo el país, y algunos de todo el mundo, llegaron al pabellón Nutter Center Arena de la Universidad Wright para demostrar su pericia y precisión bajo presión, mientras más que 850 unidades participaban en diversas competencias de ejercicios.
Nuestra más sincera felicitación a los 33 cadetes del programa AFJROTC de la Escuela Secundaria Unity Reed (Unidad VA-20065) quienes realizaron el viaje de más de ocho horas para competir en la División Sin Armas.
De las 865 unidades participantes, nuestra unidad consiguió el cuarto puesto en la clasificación general y se llevó a casa los siguientes premios adicionales:
Primer puesto: Inspección sin armas (al mando de Serenity Fraser, grado 11º)
Primer puesto: Dúo de exhibición sin armas (Serenity Fraser y Phuc Nguyen, 11º y 10º grado, respectivamente)
Segundo puesto: Dúo de exhibición sin armas (Alejandra Lobos y Hashly Paredes, 11º y 12º grado, respectivamente)
Cuarto puesto: Dúo de exhibición sin armas (Kate Laing y Ashley Corado-Rivas, ambas de 12º grado)
Quinto puesto: Equipo de exhibición sin armas (Al mando de: Ashley Corado-Rivas, 12º grado)
"El programa del equipo de instrucción es mucho más que marchar en un escuadrón, crear un ritmo o hacer girar un rifle", dijo la Sargento Tina M. Laing, instructora de ciencias aeroespaciales en la Escuela Secundaria Unity Reed. "Nuestro lema es 'Renunciar no es una opción'. Este año los cadetes aprendieron el valor de la dedicación, el trabajo en equipo y la perseverancia mientras se desafiaban a sí mismos a establecer metas realísticas y que, si se trabaja duro, se puede lograr cualquier cosa que uno se proponga. Somos un equipo, luchamos juntos".
Laing y el teniente coronel Darryl J. Robinson, instructor superior de ciencias aeroespaciales, coordinaron el viaje y prepararon a los estudiantes, quienes empezaron a practicar para esta competencia desde mayo del 2022 tras ganar la Competencia de Ejercicios del estado de Virginia de la Asociación de Fuerzas Aéreas (AFA) en el 2022. El equipo recaudó $12.000.00 dólares para financiar el viaje.
Adicionalmente, el equipo participó en la competencia de Ejercicios del estado de Virginia de la AFA del 2023 y volvió a ganar el primer puesto este año. Aunque han vuelto a ser campeones del estado de Virginia, esta vez batieron el récord estatal, consiguiendo la puntuación más alta que un equipo haya obtenido nunca, 120 puntos sobre 120, y llevándose todos los trofeos del primer puesto en todas las pruebas. El próximo objetivo de la unidad es asistir de nuevo a los Campeonatos Nacionales de Simulacro Abierto en el 2024 y competir tanto en la división sin armas como en la de armas.