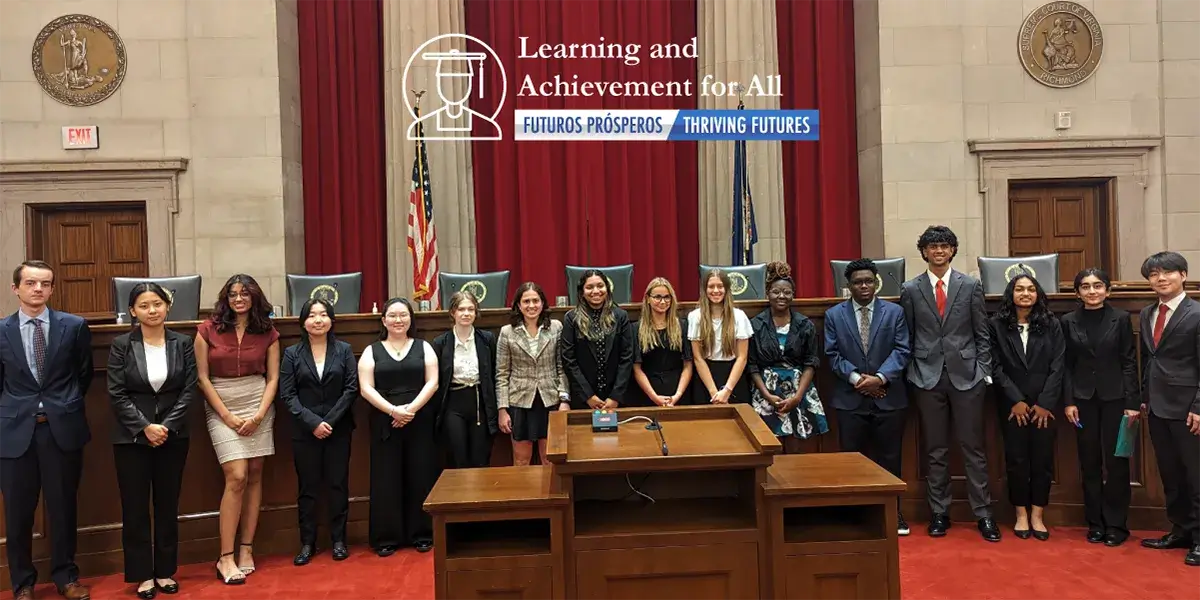 Three PWCS Students from the model judiciary program at C.D. Hylton and Patriot High Schools competed at the Virginia Supreme Court's annual moot court competition. Elaine Yoon, a junior from Patriot High, Greg Ruwe, a senior from Patriot, and Rebecca Clark, a freshman at Hylton High, all won their respective moot court cases as determined by four Virginia Supreme Court justices and one sitting judge who presided over the appellate court simulation.
Yoon was declared co-winner of the entire competition.
"Participating in moot court was valuable to me as it allowed me to experience the trial court environment as I decide what I want to do for my career. As a result of these experiences, I have become more interested in pursuing law as a career in the future," said Yoon.
Unlike mock trials which simulate a courtroom experience for students who are interested in pursuing law or a law-related field, the moot court experience assumes a trial has already taken place. The student playing the part of the lawyer is arguing on appeal for alleged errors made at the trial court.
"The arguments are complex, the case law is challenging, and it takes a long time for the students to draft their argument," said Randi Warren, Patriot High School teacher and Law Club sponsor. "The most difficult component of this competition is that the students must be prepared to answer questions from the panel of justices at any time."
With 24 moot court teams at the regional level, only six teams advanced to the state level. Half of those teams were from PWCS.
"It takes a ton of dedication to become proficient in this style of competition," said Warren, adding, "I personally met with my students for about four weeks, four times a week reviewing their materials, trying to break down how each case possibly applied, or how they could distinguish the case to explain to the judges why that case was not applicable."
Rebecca Clark, who is already succeeding at a state level in her freshman year of high school, was thrilled with the chance to compete at such a high level.
"To perform at the state level was quite the adventure. I was pleasantly surprised to argue my case in the real Virginia Supreme Court and in front of a panel of judges. It made the event feel real and meaningful," she said.
"Rebecca Clark is the quintessential debate and mock trial student," said Kelly Schofield, Hylton social studies teacher and Mock Trial Club sponsor. "Rebecca enrolled in two summer debate camps on her own accord. I have never coached someone so dedicated to the craft of argumentation," she said.
"They held their composures and did exactly what they were trained to do: Fiercely advocate on behalf of their client to persuade the Justices of their position," said Warren. "I could not ask for anything more."